Heart Breakfast's Big Town Showdown Final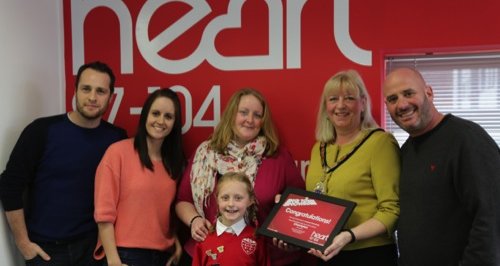 Each day on the Big Town Showdown, listeners come on to represent the place where you live and love, to have it crowned as the smartest place in Sussex & Surrey.
It's been a tough season on the Big Town Showdown with some of the fastest times ever on the competition. However, one person left all the other contestants trailing, getting through our ten general knowledge questions in an incredible 25.1 seconds.
Littlehampton bow down to your new champion – Leanne Thornburg.
As the Big Town Showdown is all about making you the hero of your home town, we invited Jill Long, the mayor of Littlehampton to come into the Heart Breakfast studio and present Leanne with a certificate of achievement live on air.
Now we knew that Leanne has two young kids, Ella who's 8 years old and Nate who's 3 years old. So we arranged a great prize to keep them both entertained.

They received an annual pass to Littlehampton's Harbour Park, to enjoy the brilliant rides and attractions, including the crazy caterpillar and the water chute throughout the year.
And after all the pressure of trying to cling on to the top of the Big Town Showdown leaderboard, we've lined up something that will truly help Leanne relax.
We've sent her and her partner off to the beautiful Alexander House Hotel & Spa for an amazing spa day.

She'll get refreshments on arrival, a 55 minute treatment, a superb 2 course lunch or afternoon tea and she'll get to keep her robes too.
An amazing prize for an incredibly smart lady!
The Big Town Showdown returns after the easter holidays at it's usual time of 8.20.