Jacks Back!
We're back to another Monday but what an exciting Monday it has been!
Jack the Lad is back on Heart Breakfast after his week off with his new baby boy Eddie. It's been a busy week off for Jack. Eddie has a good set of lungs on him (he takes after his father). But boy is he cute! He's the most adorable little pudding and has that gorgeous new baby smell.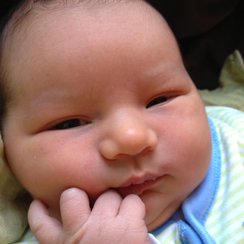 Also this morning Tom, Nicola and Jack gave away 2 tickets to go and see Robbie Williams at at exclusive intimate gig at a small venue in London.
We played Roll For Robbie! The aim of the game is this.....we roll a dice....whatever number comes up corresponds to a Robbie question with a different level of difficulty. If you roll a 1, you get an easy question, 5 is the hardest question. But what you really want is to roll a 6, then you immediately win without answering a question at all!
Selected to play at random from the many many calls we received was Tracey! How did she get on? Listen to this...
We have another chance for you to play Roll For Robbie tomorrow from 8!