Tom & Jack Become Women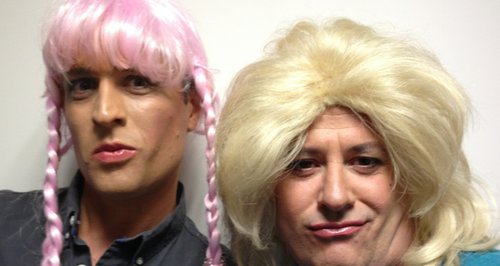 Wednesday already! It'll be the weekend before you know it.
On the show today Lynsey revealed the top three skills that most men lack…they are dancing, remembering anniversaries (Jack has his tattooed on his wrist which speaks volumes) and buying clothes for their other halves. Tom & Jack were definitely in agreement with the last one especially when it comes to shopping for lingerie. They find the styles and sizes way too confusing and as Jack rightly pointed out it is impossible to pick up a thong in a shop without looking like a dirty old man. Euw!
Andy from Bognor was our Big Town Showdown player this morning and although he didn't have the greatest of rounds he didn't disgrace himself too badly. If you'd love to represent the town you live in and adore then get online and get registered at heart.co.uk.
The main event of this morning's show was Tom & Jack's makeover! Jack was a little upset yesterday as he was accused of failing to embrace his feminine side when Lynsey tried to teach him a dance routine to Bananarama's 'Venus'. To prove he is more than happy to expose his inner girl he invited two make-up artists from www.uniquelyyou.co.uk to come into the studio and do both he and Tom up as beautiful ladies. Who pulls it off the best? well we'll leave that up to you to decide.
ON TOMORROW'S SHOW
On tomorrow's show we'll be discussing the hugely controversial subjects of lunch breaks…do you take yours religiously or do you think lunch is for wimps?!