Wonderfully Weirdo's Day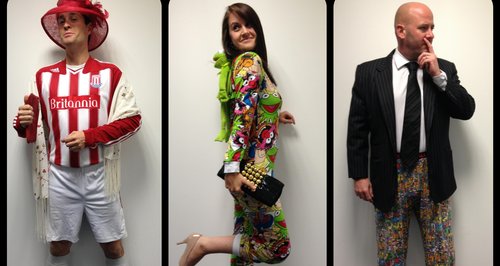 Welcome back to another Monday morning!
It's not just any Monday OH NO, It's 'wonderful weirdos Day'! Tom, Nicola and Jack got involved by turning up to work in their very own wonderfully weird outfits.
TADAAAAAAA!!
Everyone has their own weird ways don't they?! Tom ties a hanky to his steering wheel to remind himself to bring something. Nic HAS TO have her volume levels on an even number. Jack HAS TO have chewing gum in the car, or he can't drive.
WEIRD!!
Also we had another episode of Nicola's husband Scott's sleep talking. Honestly Scott, dreaming about toolboxes? WEIRD!!
Nicola's Husband Sleep Talking
ON TOMORROW'S SHOW
Tunes into Heart breakfast tomorrow from 7 for your chance to win VIP tickets to see the Wanted at the SD2 festival.