11 Knives Seized In Basingstoke Operation
27 September 2018, 15:30 | Updated: 27 September 2018, 15:41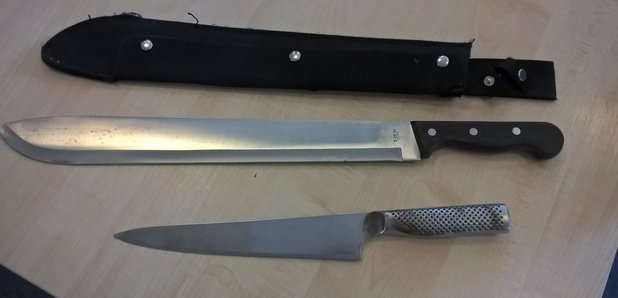 11 knives have been seized and 6 people have been arrested during a week of action against knife crime in Basingstoke.
Operation Sceptre saw officers across the town target known hot spots for knife crime.
Officers carried out knife-sweeps at several locations, including Russell Howard Park, executed warrants and visited several addresses.
Stop and search checks were also carried out, as well as test purchases at local shops selling knives.
During the week of action:
11 knives were seized
Six people were arrested
Two people were charged
Five shops passed test purchase operations
In Paddock Road on September 20, six people were arrested on suspicion of being concerned in the supply of Class A drugs.
They were later released from custody but remain under investigation.
During the raid, a total of six knives were seized at this address.
A stop and search check by officers earlier in the week, in St Michael's Road saw officers seize two kitchen knives.
Two 16-year-old boys, from London and Kent, were charged with possession of a knife.
One pleaded guilty and was given a youth rehabilitation order and the other is due to appear at Basingstoke Magistrates on October 12.
A further two knives, one of which was around 18 inches long, were seized at an address in the Black Dam area of the town.
Operation Sceptre also saw offices carry out test purchases at five shops that failed six months ago by selling bladed articles to a person aged under 18. This time all five shops passed.
Throughout the week of action several knife sweeps were also carried out in the town centre and Russell Howard Park.
Six months ago a number of knives and weapons were seized in similar sweeps, but this time around only one small knife was discovered.
Sgt Trevor Taylor said: "This was a really positive result from our knife sweeps.
"The lack of weapons found this time around highlights that our ongoing work in the area, especially in Russell Howard Park, has shown criminals that our parks are not a soft touch and we will take action."
He added: "It was also important as part of Operation Sceptre to focus on those vulnerable people within our community who could be targeted by others connected with drug and knife-related crime.
"This would not be possible if it wasn't for residents letting us know about suspicious activity in their neighbourhoods.
"You are the eyes and ears of our communities and the information you give us helps us to build a real picture of what is going on and where we need to focus our resources.
"So if you notice unusual activity in your street, please let us know, either by calling 101, or Crimestoppers anonymously on 0800 555 111.
"We know that knife-related crime can have a devastating impact, so we hope that our ongoing commitment to tackling these issues, through weeks of action such as this, offers some reassurance to residents."