Bedroom Destroyed In Fire Near Bicester
28 July 2018, 09:04 | Updated: 28 July 2018, 09:06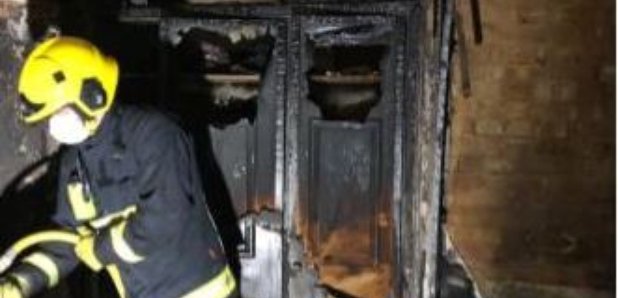 Fire crews say a bedroom fire near Bicester early this morning could've killed someone.
Three people managed to get out in Skimmingdish Lane in Caversfield, with a towel left by a lamp thought to be the cause.
Oxfordshire County Council Fire & Rescue Service were called to a severe bedroom fire at 2.13am.
Fire Crews from Bicester, Kidlington and Buckingham Fire Stations were mobilised to reports of a bedroom on fire in a house.
On arrival the first crew from Bicester was faced with a substantial fire in a first-floor bedroom which had broken through the window of a mid-terraced property.
The fire was quickly spreading to the fascia and edge of the roof due to its severity. Two firefighters wearing breathing apparatus fought the fire from the inside using a hose reel, with others fighting it externally from the ground.
Fortunately, the three occupants of the property were in other rooms at the time the fire started. They were alerted by a smoke alarm sounding on the landing and following an initial attempt to fight the fire they shut the bedroom door, left the property and called 999.
The British Red Cross Fire Emergency Support Service from Oxford also attended to provide support to the occupiers.
The fire is believed to be accidental, caused by a towel being left too close to a bedside lamp.
Crew Manager Pete Mackay from Bicester Fire Station said:
"This was a very serious fire which if it hadn't been for the smoke alarm sounding could have resulted in a loss of life. The quick actions to shut the door and leave the property saved the rest of the house and allowed them to escape relatively unscathed.
"We cannot stress how important working smoke alarms are to save lives and protect property please check yours weekly."