Brexit Fears Over Airbus Thames Valley Jobs
22 June 2018, 12:41 | Updated: 22 June 2018, 12:43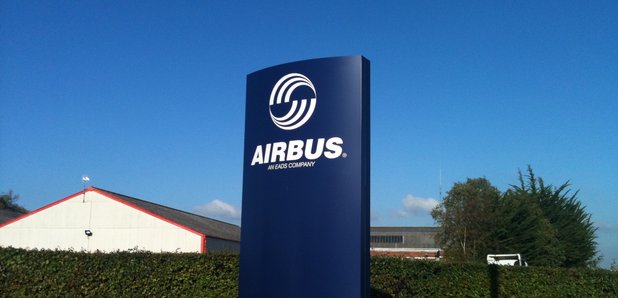 The government says it's confident of getting a Brexit deal - as Airbus warns it could leave the UK otherwise.
The aerospace firm - which has sites in Kidlington, Brize Norton and Farnborough - says that could jeopardise thousands of jobs.
The company, which employs 14,000 people at 25 sites across the country, said it would "reconsider its investments in the UK, and its long-term footprint in the country" if Britain crashed out of the single market and customs union without a transition agreement.
Publishing a Brexit "risk assessment" on its website, the firm also called on the Government to extend the planned transition period due to run until December 2020 if a deal is agreed, saying it was too short for the business to reorganise its supply chain.
Shadow Brexit Secretary Sir Keir Starmer hit out on Twitter, saying: "If proof was needed that the PM's Brexit red lines need to be abandoned (and fast), this is it." Meanwhile, Conservative MP Stephen Crabb described the news as a "wake-up call".
Tom Williams, the chief operating officer of Airbus Commercial Aircraft, said Brexit would have "severe negative consequences for the UK aerospace industry and Airbus in particular" in any scenario.
He added: "Therefore, immediate mitigation measures would need to be accelerated.
"While Airbus understands that the political process must go on, as a responsible business we require immediate details on the pragmatic steps that should be taken to operate competitively.
"Without these, Airbus believes that the impacts on our UK operations could be significant.
"We have sought to highlight our concerns over the past 12 months, without success.
"Far from Project Fear, this is a dawning reality for Airbus.
"Put simply, a no-deal scenario directly threatens Airbus' future in the UK."
A Government spokeswoman said: "We have made significant progress towards agreeing a deep and special partnership with the EU to ensure trade remains as free and frictionless as possible, including in the aerospace sector, and we're confident of getting a good deal that is mutually beneficial.
"Given the good progress that we are continuing to make in the negotiations we do not expect a no-deal scenario to arise.
"The Government is working closely with companies to understand their concerns ahead of leaving the EU and alongside industry will invest almost £4 billion by 2026 to ensure the UK remains a world leader in civil aerospace."