Brian The Horse Fails His Thames Valley Police Training
18 February 2015, 13:22
Brian the horse has failed his training with Thames Valley Police and will now be handed back to his owners.
The six-year-old, who is thought to be a Shire/Friesian cross, began training with the Force on 5 February after passing a medical.

But today (18/2) it was decided his fear for the urban environment means it is not safe for him, the riders or the public to continue training.

Brian, who is 17.2hh, will be handed back to The Stables Equestrian Centre, a riding school in Wilstead, Bedfordshire, later today. He has been with the stables since 2013.

Brian hit the headlines over the last week when it was suggested that the horse's name may have been changed.

The Force's tradition is to rename police horses if and when they pass their initial six-weeks training.

Brian would have been given a war or god-themed name, such as Odin, Thor or Hercules.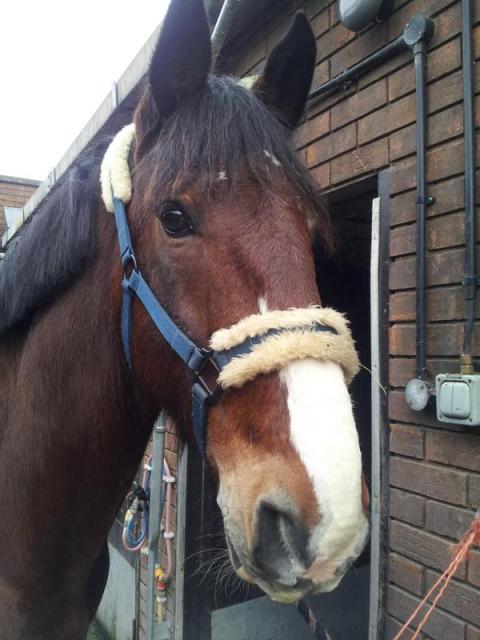 Sergeant Spencer Kervin, of the Mounted Section, said:
"Brian has been with us for nearly two weeks and he has been ridden every day, as part of his trial period.

"It has become very apparent very quickly that he is not settled to the urban environment. He has been brought up in a rural setting and he is nervous when he is out and about.

"You can see the change in him when he walks out the gates of the police station, which endangers him, the officer on board and the public around his feet.

"It is the sort of thing you cannot train out of a horse, sadly, and it is not fair on him and his welfare to continue.

"If a horse is going to get used to an environment they will generally settle within a week.

"Brian was a lovely horse and it is a shame to have to hand him back, but for his own welfare it is for the best and he is going back to a lovely home.

"We wish him and his owners all the best for the future."

The Mounted Section, which currently has eight horses, will now begin looking for a replacement horse.

Brian had been taken on by the Mounted Section to replace Pluto, a seven-year-old Shire horse, who suffered from peritonitis and, despite the efforts of a team of vets, died suddenly in his stables six months ago.

Paula Jays, manager of The Stables Equestrian Centre, said:
"We are really grateful for Thames Valley Police to have given him the trial. The experience he had when he was there is second to none.

"When we brought Brian in we realised that he has got so much scope and potential – he's a bit wasted here. He would not get the use he deserves at the riding school.

"We are in no hurry to sell him, which is why we were happy for him to go to the police. We just want the right place for him."