Bus Route Changes For Wantage And Grove
22 October 2017, 06:00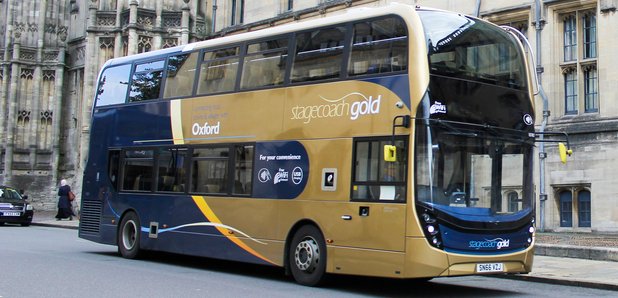 There'll be more early and late buses, a new route between the two and timetable changes
Stagecoach in Oxfordshire has announced that the 31 and X30 services in Wantage will be rebranded as Stagecoach Gold S8 and Gold S9 with timetables in place from Sunday 22 October.
The changes follow Stagecoach's consultation with customers earlier this year and the arrival of the brand new Stagecoach Gold double deck buses at a cost of £2.1 million in January. Customer responses expressed a desire for more comfortable double deck buses on all trips to ensure passengers get a seat, more early and late buses and timetable changes to improve punctuality in the face of worsening traffic congestion.
Stagecoach S8 will replace service 31 between Wantage, Grove, Marcham, Abingdon and Oxford. To meet public requests for a service to the West of Lecombe Brook, the Gold S8 will be routed from Wantage Market Place via Mill Street, Denchworth Road, Cane Lane and Brereton Drive then following the current route into Oxford.
Stagecoach Gold S9 will replace service X30 and will follow the current route through Grove via Main Street.
The morning commuter X30 journey run with an Oxford Tube coach will continue, renumbered S9 and, following customer requests, take a more direct route, into Oxford.
Service 34 will continue with two journeys a day to and from Harwell Campus, with minor changes to timings to improve reliability.
Bus stops in Oxford City Centre for services S8 (formerly service 31) and S9 (formerly service X30) will not change with the opening of Westgate Oxford and the new bus stop arrangements from Sunday 22 October. Both services will start from St Aldate's stop H4; service S8 will then pick up at stop P1 outside the Police Station before continuing along Abingdon Road. After leaving St Aldate's stop H4, service S9 will pick up at Speedwell Street, stop S1, then New Road, outside County Hall, stop E7.
Commenting on the new timetables, Martin Sutton, Stagecoach's Managing Director said "In making these changes to our Wantage and Grove services, we have tried to take into account as many of the comments and feedback we received earlier in the year. The new services have already been upgraded with new Stagecoach Gold buses with more comfortable seating, improved heating and ventilation systems, complimentary WiFi and USB charging facilities.
"We will now service both east and west of Letcombe Brook to give residents more choice. We wanted to make the improvements in response to the increase in demand for buses and as part of a broader plan to increase the numbers of buses serving Wantage and Grove as new housing developments progress."
Timetables are available now from the service update section of stagecoach's website www.stagecoachbus.com and timetable leaflets are available from Stagecoach customer services team on 01865 77 22 50 or via email at oxford.enquiries@stagecoachbus.com