Car Hits Oxford Shop Window
17 April 2016, 12:03 | Updated: 17 April 2016, 12:11
Police Cordon In Place Around Cowley Road As Driver Fled The Scene. No One Been Injured



Early this morning (17th April) a car crashed into a shop on the Cowley Road, Oxford. Police, Highways and Oxfordshire County Council Fire & Rescue Services all attended the scene and established that there was nobody needing assistance in the car or the shop (it is understood that the occupants of the car left the scene just after the crash).
Thanks to @CemselB for the picture from Cowley Road.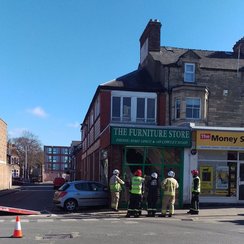 The structure of the shop was made unsafe by the impact, three fire engines and fifteen firefighters from Oxford and Kidlington worked to make the shop safe before the car could be removed. Crews used metal props in to support the roof and prevent it from falling in on the shop whilst the vehicle was removed. The scene was left with Oxfordshire County Council Highways department to make sure that a safe cordon was kept in place around the building to protect members of the public, whilst the building is made safe.

Thames Valley Police are working to establish who was driving the vehicle and make sure that they didn't sustain any injuries. Station Manager Simon Belcher said 'this shows the varied nature of our work from fires, flooding, chemical spills, crashes, rescues, medical emergencies, unsafe structures, our crews are faced with a multitude of incidents on a daily basis and work hard to make sure that everyone in Oxfordshire is as safe as they can be'.