Cat Found At M40 Service Station In Bucks
8 January 2017, 09:35 | Updated: 10 January 2017, 10:19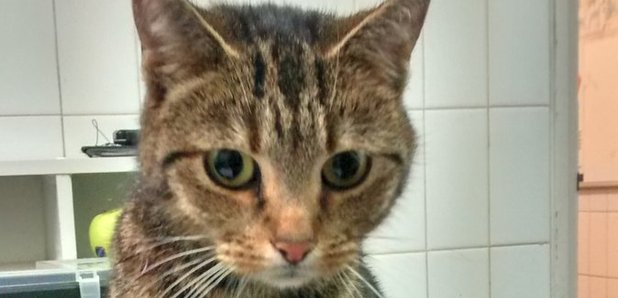 The RSPCA is looking for the owner of a tabby female cat, after she was found at M40 motorway service station in Beaconsfield, Bucks.
We were called by staff at the Beaconsfield Services of the M40 junction in Windsor Road, after the missing moggy had appeared nearby.
Staff said they had been approached by a woman the night before (Thursday, 5 January) who had lost the cat after she had escaped from her car.
RSPCA inspector Rachel Smith said: "This owner must be frantic with worry.
"I am told that the cat just jumped out of the car when she stopped and then she couldn't find her, despite looking and asking staff. Fortunately, a member of staff managed to find and rescue the cat the next day.
"Unfortunately Mimi is not chipped and the owner didn't leave her details so we don't know how to contact her and let her know the happy news. As she was travelling it is difficult to know where she lives or may have been going to, but we urge anyone with any information to let us know so we can reunite them.
"Luckily, Milly is unharmed and doing well in RSPCA care, although understandably a little shaken up by her ordeal. She is a beautiful cat who has clearly been loved and looked after and I think her owner must just be so upset."
Inspector Smith added: "This incident shows how important it is to microchip your cat. If we had Mimi's details, we could have taken her straight back to her.
"It is difficult to know exactly what happened here, and how the cat escaped, but it seems a good opportunity to remind people to keep their cat secured in a basket or box when travelling. I know animals do have a habit of escaping such boxes though, which may well have been what happened here."
The number for anyone to call with any information is 0300 123 8018.