Coffee Cup Clean Up
21 November 2017, 07:00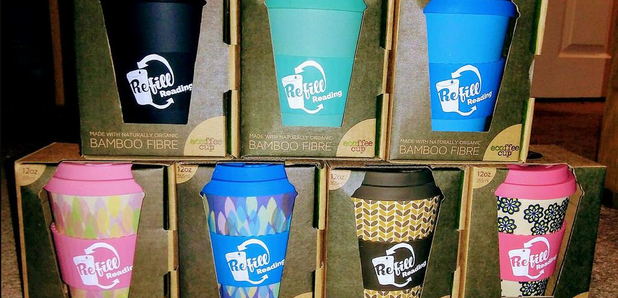 A campaign's started in Reading to encourage people to get their fix in re-usable rather than disposable cups.
Refill Reading is a community-based initiative running in partnership with local cafes across Reading, with the support of Reading Borough Council and sponsorship from the Reading Climate Change Partnership.
In the UK it is estimated there are more than 7 million disposable cups going to landfill every day - approximately 2.5 billion per year. This translates to more than 6 million cups per year in Reading alone. The Refill Reading campaign is aiming to reverse this trend.
This will be achieved by encouraging and promoting the use of reusable cups through discounts at participating local cafes for customers who bring their own cup. That way, not only is it good for the planet but for people's wallets too. Typical discounts are 20p per drink, although this does vary between venues. Cafes offering discounts have the Refill Reading logo in the window.
The campaign is also selling Refill Reading reusable Ecoffee cups through participating local cafes. Ecoffee cups are made from sustainable, naturally organic, naturally sterile bamboo fibre. The bamboo is sourced from sustainably managed plantations in China. The lid and sleeve are made from food-grade silicone. The cups are 12oz in size and are light, hard-wearing and dishwasher safe.
Cafes already part of the campaign include Palmer's Café in Reading Town Hall, Nomad Bakery and the Indulgent Baker (Warings) in Caversham, and Nibsy's, Picnic and Boswells in the town centre. Customers of these local favourites can get a discount now for using reusable cups when they buy hot drinks. The Hexagon and South Street will also be joining the scheme.
Cllr Liz Terry, Reading's Lead Councillor for Neighbourhoods, said:
"So many of us enjoy grabbing a cup of coffee on the go from one of the many cafes in Reading but the consequence is millions of disposable cups end up in landfill every year.
"This excellent new initiative will help people make a positive difference to their environment and save some money at the same time."
Cllr Tony Page, Lead Councillor for Strategic Environment, Planning and Transport, said:
"The Council is committed to playing a leading role in making Reading a cleaner and greener town and further reducing our carbon footprint.
"Innovative projects like Refill Reading, where community groups and the Council work in partnership, give everyone a chance to take a single action which can potentially have a massive positive impact on the environment, and I'm delighted to see Council venues taking part."
The Refill Reading campaign is an initiative of Transition Town Reading, an organisation working to create a more sustainable town through community-based projects. Funding for the campaign has been provided by
Reading Borough Council through the Reading Climate Action Network.
To find out more, email Refill Reading at refillreading@gmail.com and see the website www.refillreading.org.uk. The campaign is also on Facebook (https://www.facebook.com/RefillReading/) and Twitter (@RefillReading).