Five On Trial Over £50m Cocaine Seizure In Hampshire
30 July 2018, 17:11 | Updated: 30 July 2018, 17:15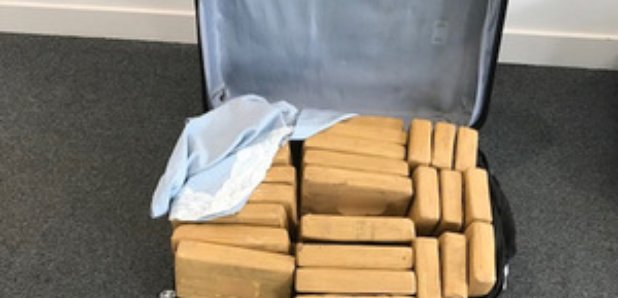 Five men tried to smuggle half a tonne of cocaine worth more than £40 million into the UK on a private jet from Colombia, a court has heard.

They arrived at Farnborough Airport in Hampshire, having allegedly flown in from the South American country's capital, Bogota, on January 29.
Brothers Stephen Neil, 53, and Martin Neil, 49, both from Bournemouth Road in Poole, deny fraudulent evasion of a prohibition in relation to a class A controlled drug, between October 30 and January 30.
They are on trial at Woolwich Crown Court alongside Italian national Alessandro Iembo, 28, of Richmond Hill, Bournemouth, and Spaniards Victor Franco-Lorenzo, 40, and Jose Ramon Miguelez-Botas, 56, who are charged with the same offence.
Opening the case, prosecutor Kerry Maylin told jurors: "That's what this case is about. A huge importation of 513 blocks weighing about a kilo each of cocaine hydrochloride."
The court heard the five men travelled together in the private jet, at a cost of £138,500, from Luton Airport on January 26.
When they returned to the UK three days later they had 15 suitcases which were opened by Border Force officials at Farnborough.
Ms Maylin said: "As they were opened individually, on the top some of them had some dirty children's clothes, some had some female clothes - not very many because in the main body of those suitcases were wrapped blocks of cocaine hydrochloride, each individually wrapped in about 1kg weights."
Jurors were told that when analysed, the cocaine was found to have a purity of 79%, and the average weight of each block was 997g - around 500kg in total.
"The value, wholesale, was £15,390,000, but on the street - you can imagine - much, much more," said Ms Maylin.
She said it had a "representative street value" of more than £41 million.
The court heard that even with the associated costs of the importation, the profit was set to be more than £15 million.
A Border Force officer at Farnborough described one suitcase as being so heavy it took three people to lift.
When interviewed, Iembo allegedly said he had been in Colombia working for a charity called One Young World.
However, when authorities contacted the organisation it had no record of him or any of the other men having been involved with its work.
Jurors were told Iembo, Martin Neil and Franco-Lorenzo made an initial three-day trip to Bogota, leaving on December 8.
When booking the private jet for that trip, the woman who paid the man who ran Diamonte Jets - a chartered jet service provider - gave him £128,500 in cash for three passengers.
Ms Maylin said: "She said they were leaders in the field of cryptocurrency, they were involved in the music industry and that her clients would be meeting Bruno Mars in Colombia."
Subsequent checks revealed the singer had been in the South American country at that time.
As part of the booking, it was also asked that a luxury chauffeur-driven Rolls-Royce Phantom car collect the men on their return to Farnborough.
It was to take them to an address in Bromley, south-east London.
Jurors heard that when the three men returned to the UK on December 11, they landed with a number of suitcases but it cannot be said what was in the luggage as they were not stopped.
The trial resumes at 10.15am on Tuesday.