Grenfell Fire: Thames Valley Reaction
15 June 2017, 07:12 | Updated: 15 June 2017, 07:13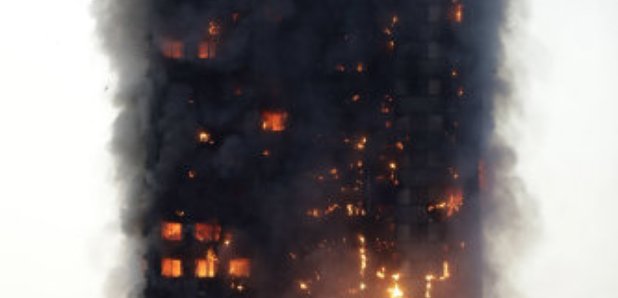 Following the devastating fire at Grenfell Tower in North Kensington, we've been hearing from authorities in the Thames Valley.
BERKSHIRE
Royal Berkshire Fire and Rescue Service is providing advice and reassurance to people who are concerned about the safety of high-rise buildings.

Area Manager Mark Gaskarth who is responsible for Fire Safety for Royal Berkshire Fire and Rescue Service, said: "Our thoughts are with everyone who has been affected by this tragedy. Our colleagues in London Fire Brigade have been working incredibly hard and our thoughts are with them as well. It would be wrong to speculate about the cause of the fire until a full investigation has been carried out. While these incidents are rare, it is important at this stage to focus on those affected and also ensuring our residents feel safe."

"Our advice to people who live in high-rise properties or purpose built flats or maisonettes, aside from having a smoke alarm and taking fire safety precautions, is to make sure you know your escape route and what to do if there is a fire inside your home or somewhere else in the building.

"If there is a fire inside your flat or maisonette, alert all the people in your flat and leave, closing your doors behind you. Follow your escape plan and if there is lots of smoke, crawl along the floor where the air should be clearer. Always use the stairs rather than the lift and call 999 as soon as you are in a safe place.

"If there is a fire elsewhere in the building, the structure of your flat - walls, floors, doors - are designed to give you a minimum of 30 to 60 minutes' protection from a fire. If there is a fire in your building but not inside your own home, you are usually safer to stay in your flat unless the heat or smoke from the fire is affecting you. If you stay put you should still immediately call 999.

"Royal Berkshire Fire and Rescue Service works with local authorities, developers, and tenants to help ensure that the fire safety arrangements in high-rise accommodation are safe and appropriate. Our crews train to ensure they are familiar with high-rise buildings in our area and what action to take in the event of a fire.

"The advice in this statement is intended to help tenants develop an initial and safe escape plan. Once a 999 call is made and firefighters arrive at a fire, the advice may be reinforced or changed depending on the nature of the fire, the building and its tenants."
OXFORDSHIRE
Oxford City Council has reassured residents of its five high-rise towers across the city that it has delivered substantial improvements to fire safety as part of the major repair works currently being carried out on the blocks.
A letter from the Council reassuring residents of their safety from fire has been sent out following the tragic incident in West London.
All five tower blocks - Evenlode and Windrush in Blackbird Leys, Hockmore in Cowley, Plowman in Northway, and Foresters in Wood Farm - are currently undergoing major repairs to the tune of £20 million.
Cllr Bob Price, Leader of the Council, said: "My heart goes out to all those affected by the tragic fire in West London. Fire safety is a top priority for us, and I wanted to reassure our own tower block residents about their safety here in Oxford. We have gone above and beyond legal requirements to ensure an enhanced level of fire safety for the families living in these blocks.
"The authorities in London don't yet know what started the fire in London, or what caused it to spread as it did. It wouldn't be helpful to speculate on that until they have got to the bottom of it. The letter that we've sent today details all the specific measures that we've taken to ensure that our tower block residents are safe in their homes.
"The improvements to fire safety that have been or are currently being delivered in the tower blocks as part of the ongoing works include the following.
"Sprinklers are installed and operational in Hockmore, Windrush and Evenlode Towers and will be fully operational before the end of the year in Foresters and Plowman Towers. Sprinklers are not a legal requirement, but we decided to install them anyway, having listened to the advice of the Oxfordshire Fire and Rescue Service, and having taken on board Coroner's recommendations following previous block fires elsewhere in the country. Not only have we installed these sprinklers in each individual home, but they are also in bin storage areas.
"We have installed a fully automated fire and smoke detection system connected directly to the fire service both in the communal areas and each flat in Hockmore, Windrush and Evenlode Towers. The same systems are being fitted in Foresters and Plowman Towers as upgrades of the more traditional fire alarm systems.
"The external cladding fitted to these blocks is fire retardant. We also made sure that the external cladding has 'fire breaks' between each floor.
"Dry risers are checked routinely to ensure they work effectively. These are the internal pipes that allow fire engines to pump up high pressure water from the ground floor to each upper floor in the event of needing to fight a fire. Obviously it is vitally important that these are kept clear, and that's why we check them regularly.
"Evacuation procedures in the event of a fire are clear. There are signs on display in your blocks that tell you what to do in the event of a fire. Please make sure that you familiarise yourself with the instructions. We had already begun putting up extra signs in your block to remind you of them.
"Fire doors are in place in each block. Not only have we made sure that the homes have a front door able to resist fire, but we have also fitted similar safety measures (called 'intumescent strips') to rubbish chutes.
Smoke extraction vents are in place in stairwells. These work automatically to let smoke out of stairwells in the event of a major fire.
"Fire engines can access each of these buildings. We can confirm that there are no obstructions that would stop fire engines getting close enough to your building in the unlikely event of a major fire, even during the works."