Group Award For Tackling Armed Robbers
20 December 2017, 07:00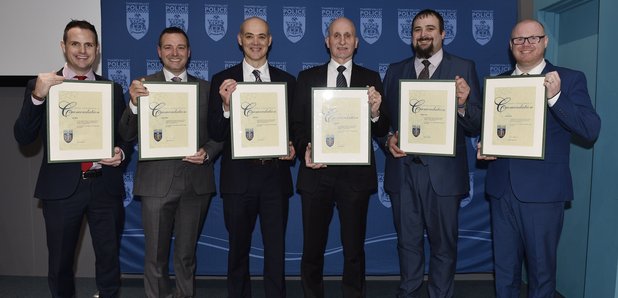 Nine members of the public and an off-duty police officer have received the Chief Constable's Commendation.
Head of the Thames Valley Police Francis Habgood congratulated them at a ceremony at the force's training centre in Sulhamstead.
On the morning of Thursday 8 September last year four offenders on motorbikes approached the front of jewellers Robert Gatward in King Edward Court in Windsor.
The offenders were armed with sledgehammers, axes and knives. They attempted to break the glass for a display containing approximately £500,000 worth of Rolex watches.
One of the offenders threatened members of the public with a knife
Two employees at Robert Gatward jewellers, Gary Reeves and Nicholas Elliott, then confronted the offenders.
Mr Elliott pushed over one of the offender's motorbikes, preventing them from making a quick escape.
Three of the offenders were then detained by Mr Elliott and Mr Reeves, as well as other members of the public: Kristen Prier, Daniel Keogh, Kerrin Walker, Mark Morley and Mark Payne.
Nicholas Elliot said: "I am shocked to be receiving this award. At the time I was just reacting and trying to protect the shop and my staff.
"I never expected the public to react and help as much as they did. Without their help we could not have caught the offenders."
During the incident Mr Morley was stabbed but Mr Walker managed to disarm the offender.
Mr Payne gave first aid to Mr Morley until emergency services arrived at the scene.
The fourth offender was pursued by off-duty police officer, Kris Mayo, while two members of the public, Ruth Bruce and Gillian Moran, retrieved evidence that was later used in the police investigation.
Kris Mayo said: "I am very proud to receive a Chief Constable Commendation. As a local business owner and police officer, I was off-duty at the time, I believe it is important for communities to support each other."
The gang of four men were arrested and charged and jailed for a total of 30 years.
Kristen Prier said: "I feel very proud and honoured to receive this award especially as my wife and family are here to see it. In all the madness of that day I just did what I thought was right. I didn't think about what would happen if it went wrong. Thankfully my actions were spot on and it turned out right."
Modestly, Mark Payne added: "I was just happy to be able to help."