Hampshire Council Granted Unauthorised Encampments Ban
31 July 2018, 17:37 | Updated: 31 July 2018, 18:12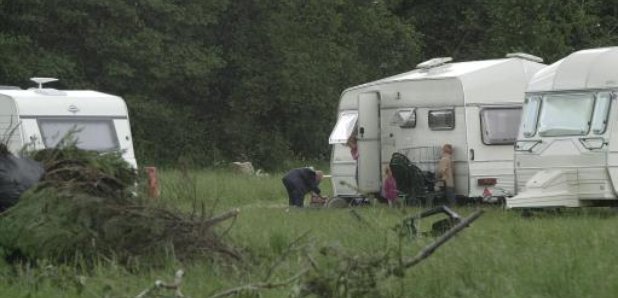 Basingstoke and Deane Borough Council and Hampshire County Council have been granted an interim injunction from the High Court banning the setting up of unauthorised encampments in a large section of the borough.
Basingstoke and Deane has become the first in the county and one of a small number nationally to be granted the interim injunction.
It prevents unauthorised encampments and unauthorised developments being set up or items fly-tipped within a designated area covering the urbanised area of Basingstoke town, as well as the outlying areas of Bramley and Silchester and a small parcel of land at Stratfield Turgis.
The injunction gives greater power to landowners and the police and means that anyone setting up an encampment in the injunction area will be prohibited from doing so and will be asked to leave immediately.
The area covered in the injunction captures those communities most regularly experiencing the negative impacts of unauthorised encampments.
Last year 42% of the unauthorised encampments in Hampshire were in Basingstoke and Deane. From April 2016 to 14 June 2018, 158 unauthorised encampments were recorded on borough council, county council and private land and the borough council took legal action against four unauthorised developments.
The borough council alone has spent approximately £264,000 responding to and dealing with unauthorised encampments. Communities have experienced significant impacts arising from noise, nuisance, intimidation, human excrement evident in hedges and on roadside verges, large amounts of household waste left by groups in addition to other waste including large amounts of fly-tipped tree cuttings.
Since November last year, officers at the borough council have been gathering evidence from those people most impacted, including local residents, ward councillors, landowners, partners and businesses to support the application for the interim injunction. And on Monday 30 July the application was granted by His Lordship Peter Hughes QC at the High Court.
The interim injunction takes effect immediately and will be followed by a full hearing later on in the year.
The borough council's Cabinet Member for Communities and Community Safety Cllr Simon Bound said:
"Unauthorised encampments in Basingstoke and Deane continue to adversely impact on our communities and this has been so clearly evidenced just recently in Winklebury and Brighton Hill where we know residents have become frustrated by the limited action we could take as landowners.
"This action has been taken given the serious problems these encampments regularly cause including noise, nuisance, intimidation and fly-tipped waste left on land and human excrement. Finding a long-term solution to deal with repeated unauthorised encampments has been a top priority for us and we have been working on it for over half a year now, but have been unable to talk about the legal action we were planning.
"This interim injunction is about upholding the law, responding and listening to the concerns of residents and businesses and protecting the borough's green open spaces and business areas. It is not about persecuting any particular group of people or their way of life."
Cllr Bound added: "I would like to thank everyone who has provided evidence and contributed to this successful outcome so far. We look forward to working with our partners to take forward the powers given, should they be needed, through the interim injunction."
Leader of Hampshire County Council Cllr Roy Perry said: "I welcome the High Court ruling as it sends a clear message that we, as local authorities, take firm and decisive action with regards to unauthorised encampments where appropriate, protecting residents from anti-social and illegal behaviour such as fly tipping, threats and intimidation and nuisance issues.
"This is a really good example of how our two councils have worked collaboratively, using our joint expertise, to secure a positive result for the residents of Basingstoke.
"We hope the ruling deters individuals from flouting these rules and regulations in the future."