Horse Rescued From Mud Near Banbury
11 October 2018, 08:57 | Updated: 11 October 2018, 09:59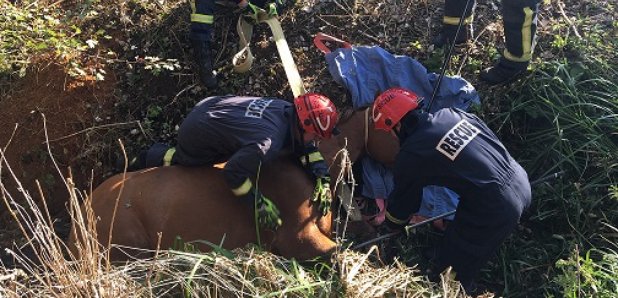 Oxfordshire firefighters have rescued a horse, after it got trapped in a muddy ditch near Banbury.
They put lifting straps around the mare, in Cropredy yesterday morning, and gently pulled her out using a 4x4. She wasn't hurt.
At 9.22am on Wednesday, Thames Valley Fire Control Service received a call to a report of a horse that had become stuck.
A fire appliance from Banbury fire station was mobilised along with a specialist animal rescue team from Kidlington, and a four wheel drive off road vehicle from Abingdon.
Upon arrival the crews were met by the daughter of the horse's owner and a vet, who was on scene to assess the horse's condition.
Crew Manager Morgan Staveley from Banbury said:
"Horses are herd animals so if they get into trouble and get stuck like this, they tend to 'give up'. Once they get a sense of freedom, a docile animal will normally attempt to bolt to safety and away from danger and this can prove hazardous to bystanders. This makes close proximity working with such a large and powerful animal extremely dangerous to the rescue teams. As the 10 year-old mare was unable to free herself we used the knowledge of the Specialist Crew from Kidlington to formulate a plan to free her.
"The mare was sunk up to her hindquarters, and the suction effect of the mud made it difficult to release her legs. Utilising the specialist medical knowledge of the vet to keep the horse docile throughout the rescue, we were able to place heavy lifting strops around the mare, and then used the 4x4 to gently pull her free."
The fire service said:
'Throughout the rescue, the vet continuously monitored the mare to ensure that her condition was not deteriorating.
'After resting for a while to get over her ordeal once removed from the mud, the crews, vet and owner were extremely pleased to see her stand up and then walk unaided.
'Rescues of large animals can call for a technical solution, as in this case. We would rather attend such incidents than have concerned owners or riders risking injury to free an animal themselves. If in doubt, please dial 999.'