Lightning Strikes House In Bicester
20 May 2017, 10:23 | Updated: 20 May 2017, 12:33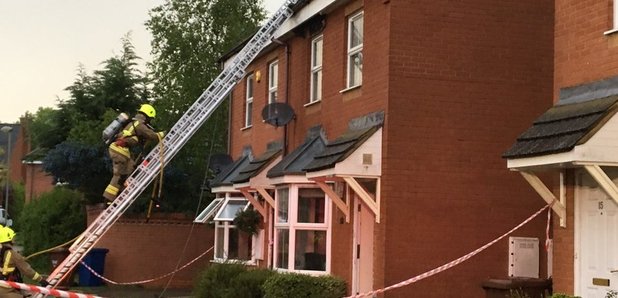 A family with two young children managed to escape a house fire in Bicester last night after the roof was struck by lightning.
lightning storm and accompanying heavy rain that hit Oxfordshire on the evening of the 19 May 2017 took its toll as it progressed eastwards across the county with Oxfordshire Fire and Rescue Service attending three incidents involving lightning strikes on houses together with flooding caused by the rain in another dwelling. Oxfordshire Fire and Rescue Service were called to the first lightning strike at 6:58pm in Combe followed by two more on houses in Bicester at 7:08pm and 7:52pm and the flooding in a house in Bletchingdon at 7:16pm.

The most serious of these incidents occurred in Restharrow Mead in Bicester where a semi-detached town house suffered a serious fire following the lightning striking on its roof. Six fire engines from Bicester, Buckingham, Banbury, Deddington and Brill attended the incident with an aerial appliance and salvage vehicle from Rewley Road, Oxford and Eynsham respectively attending the incident.


The first fire engines from Bicester were quickly on the scene and firefighters found the roof of the house heavily involved in fire. Nine firefighters wearing breathing apparatus used hose reel and main jets to bring the fire under control.

Crew Manager Paul Mann who attended the incident as the first Incident Commander said "The fire could be seen from over half mile away and fortunately the occupiers of the house with their two young children were able to escape the house quickly and safely. Due to the sheer power of a direct lightning strike, the fire very quickly took hold and spread throughout the roof and walls which we had to quickly contain whilst also protecting and salvaging the family's belongings".

Fire crews remained at the scene until 10:34pm to sheet the roof in order to protect the building from any further inclement weather until such time as repairs are able to be carried out.