Driver Dies In M4 Lorry Crash
11 May 2016, 10:50 | Updated: 11 May 2016, 15:30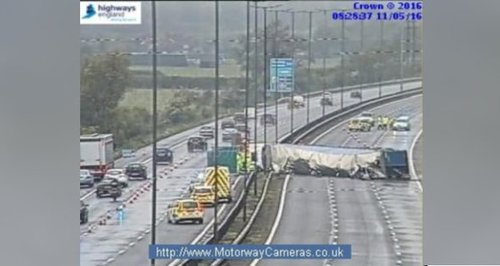 A lorry crashed at around 5am this morning on the M4 near Reading Services and the road is now not expected to re-open until tomorrow.
The fully loaded lorry smashed through the central barrier of the motorway causing disruption from the early hours, green screens have been put up around the driver's cab and we have been told the 49-year-old lorry driver has died- his family have been told.
Motorists have been stuck for hours in the traffic which is causing issues to most of the surrounding roads which lead on to the M4.
Earlier five lanes were shut and The Highways Agency don't expect the road to fully re-open London bound until potentially tomorrow, explaining when they can start the recovery process it is going to be 'a complicated job'.
Queue's have been reported along most of the routes that lead to the M4 around the area, with traffic at a complete standstill.
The A4 in particular is really badly congested heading in and out of Reading.
Lucy - who's been stuck near Calcot tells HEART - she's just having to sit and wait it out.
Police are investigating.
These people are still stuck on the M4 near Newbury.
Follow us on Twitter for the latest Thames Valley travel @HeartThames
Latest pictures from the crash from Thames Valley Police: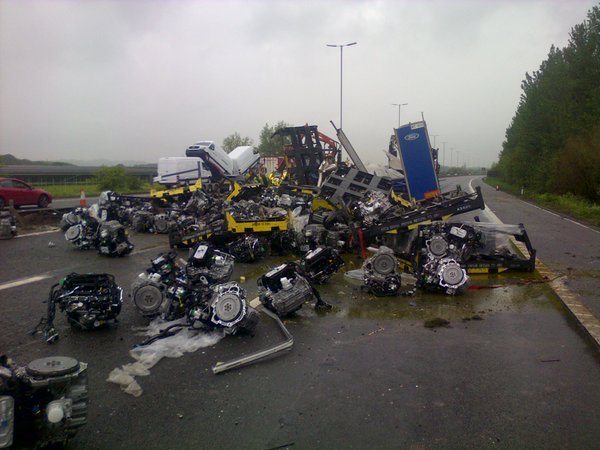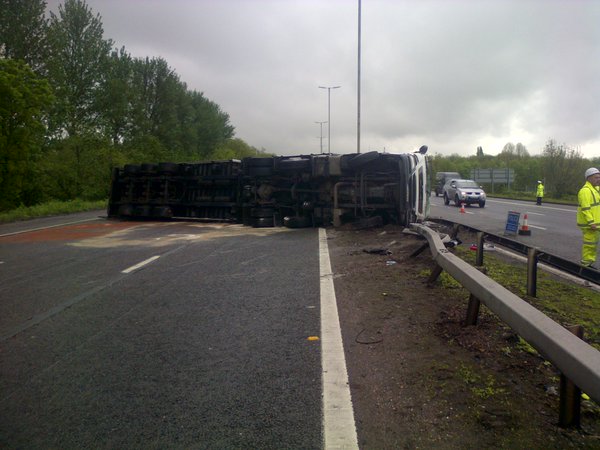 Thames Valley Police Statement:
We are investigating an RTC on the M4 Junction 12-11. Eastbound closures are in place. We are expecting the carriageway to be closed for up to 6 hours or more. Westbound lanes 2 and 3 are closed, and traffic is running on Lane 1 and the hardshoulder, however we are working to open more lanes on the Westbound carriageway as soon as we can. This is likely to cause disruption to the wider network. Please avoid if you can.
Highways Agency Information:
M4 | Berkshire | Eastbound | Serious Incident | Road Closed
The M4 eastbound in Berkshire is closed between J13 - J11 near Reading due to a serious incident involving a heavy goods vehicle which has crossed through the central reservation barrier. This incident is being led by Thames Valley Police.
Diversion Route:
Exit the M4 at Junction 13 and take the A34 southbound. Join the M3 eastbound at Junction 9. Traffic heading for London can continue on the M3 to the M25. Traffic heading for Reading and surrounding areas can exit the M3 at Junction 6 and take the A339 and A33 northbound.
Road users are advised to allow plenty of extra travel time for their journey and may wish to use an alternative route if possible.