M40 latest: Coach Overturns With 17 People On Board
30 December 2016, 10:02 | Updated: 31 December 2016, 10:01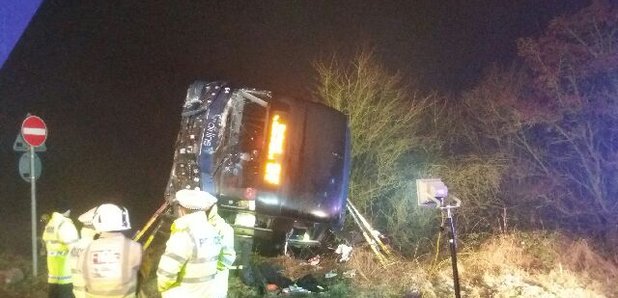 Emergency crews in Oxfordshire declare major emergency after coach overturns on M40. Driver and 16 people taken to John Radcliffe Hospital.
Thames Valley Police say. No arrests at this stage. The Investigation is ongoing.
But we are urging motorists to take care on the roads with poor visibility and freezing temperatures.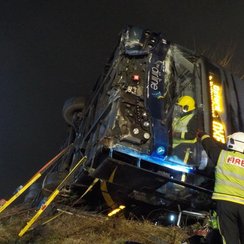 Latest from Oxfordshire Fire and Rescue Service.

Four fire engines from across the Thames Valley attended, including a specialist rescue vehicle from Kidlington.

On arrival the initial fire crews were met with an unstable coach that had overturned and was half way down a bank, and were quickly deployed to assist Highways Officers in walking wounded casualties from the vehicle to safety.
Trauma trained firefighters treated the injured before handing over to South Central Ambulance staff on scene.

Once the coach was stabilised and all walking wounded were safely assisted, fire crews thoroughly searched the vehicle and surrounding area for any passengers that may have been ejected. Fire crews worked in partnership with Thames valley Police Officers and specialist Hazardous Area Response Teams from South Central Ambulance Service and employed thermal imaging cameras, image intensifying lens's, remote cameras and audible searches to try to locate any missing persons.

Incident Commander, Group Manager Kerry Blair said: "It was very cold and foggy at the time of the incident and emergency service staff assisted by the Highways Agency worked extremely hard to quickly and safely rescue all casualties and ensure they were transported to hospital without delay. It is testament to our continued multi-agency training that this incident was managed in such a professional manner despite the dangerous and very cold conditions. I urge all drivers to pay particular attention when the roads are cold and foggy and ensure they moderate their speed and leave a safe gap between themselves and other road users".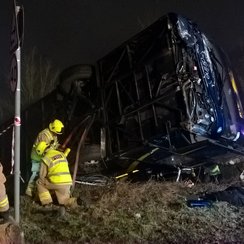 SCAS Media Statement

We were called at 02.45 this morning (30/12/16) following reports of a coach operated by the Oxford Bus Company having come off the slip road on the M40 northbound at Junction 7 (Milton Common, Thame).
South Central Ambulance Service declared this a major incident due to the number of patients involved and attended the scene with our colleagues from Thames Valley Police and Oxfordshire Fire and Rescue Service. There was thick fog in the area at the time of the accident which also presented challenges to the emergency services getting to the scene.
The male coach driver and 16 adult passengers (mixture of male and female) had sustained a variety of minor injuries, such as cuts, bruises, broken bones and all 17 patients were taken to the John Radcliffe Hospital in Oxford.
At the scene, we had six ambulances, a rapid response vehicle, three ambulance officers (two bronze and one silver), a BASICS Doctor and the Trust's Hazardous Area Response Team. We also sent a Silver Officer to the emergency department at the John Radcliffe Hospital to assist with the arrival of this large volume of patients.
Highways England say exit slip road is likely to stay closed until midday, while investigation takes place.
Phil Southall, Managing Director of Oxford Bus Company said,

"At around 0245 this morning, one of our airline coaches returning to Oxford from Heathrow airport left the slip road at junction 7 of the M40, and for reasons still being investigated, the vehicle ended up on its side.

There were 16 passengers on board, all of whom were taken to the John Radcliffe hospital for assessment. We are thankful that there were no serious injuries, and we have been advised that injuries incurred were a spinal injury, a broken collarbone, minor head injuries
and cuts and bruises. Our thoughts are with those who have been injured, particularly at this time of year.


Company representatives have spoken with all those involved and are continuing to assist the emergency services with their investigations. The driver of the coach was also taken to hospital.


We are doing everything we can to assist those involved in this unfortunate incident, and have been working closely with the emergency services at the scene in what has been a very challenging environment.


The driver of the coach is 54 years old, very experienced, and has worked for the company for 20 years. He has been working overnight shifts for a number of years.


A full investigation has been started and it is too early at this stage to speculate on the cause of the incident."