Lorry Driver Jailed For 10 Years Over Fatal A34 Crash
31 October 2016, 14:13 | Updated: 1 November 2016, 13:32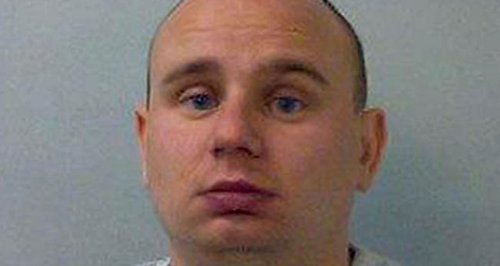 A lorry driver who killed a woman and three children in Berkshire by ploughing into their stationary car while scrolling through music on his mobile phone has been jailed for 10 years.
Tomasz Kroker, 30, smashed into the vehicle carrying Tracey Houghton, 45, her sons, Ethan Houghton, 13, and Josh Houghton, 11, and her stepdaughter, Aimee Goldsmith, 11, at 50mph on August 10.
Their car was shunted underneath the back of a heavy goods vehicle and crushed to a third of its size, immediately killing the family, from Bedfordshire, at the scene on the A34 dual carriageway north of Newbury in Berkshire.
Kroker, from Trajan Walk, Andover, Hampshire, had pleaded guilty to four counts of causing death by dangerous driving and one count of causing serious injury by dangerous driving at Reading Crown Court on October 10.
He was sentenced at the same court on Monday.
Below is a video featuring dash cam footage of the crash happening
*WARNING* Viewers may find the video distressing. Thames Valley Police worked with the family to produce this video to highlight the potentially catastrophic consequences of using a mobile phone whilst driving.
The court had heard that Kroker, who himself had become a father five months before the incident, was so distracted by his phone that he barely looked at the road for almost a kilometre.
Passing sentence, Judge Maura McGowan said his attention had been so poor that he "might as well have had his eyes closed''.
Just an hour earlier he had signed a declaration to his employer, promising he would not use his phone at the wheel.
Kroker's truck ploughed into a stationary queue of two lorries and four smaller vehicles which were stuck behind a slow-moving articulated lorry near the villages of East and West Ilsley at around 5.10pm.
A man was seriously injured and four other people were hurt in the horrific accident.
Kroker broke down at the scene, crying and saying to himself: ``I've killed them.''
But he also tried to claim his brakes had failed, telling officers the traffic in front of him ``just stopped - I hit my brakes but just couldn't stop''.
And when he was asked by his company the following day whether he had been distracted, he said: ``Had radio on. Not tuning it. Not on phone.''
He refused to answer questions when interviewed by police, but when he was eventually shown the footage from his lorry's dash-cam he admitted he had been distracted by playing with his phone.
Defending, James Rozier said Kroker - whose partner was in court to see him sentenced - understood the ``unfathomable'' harm he had caused, that he himself wanted justice to be done and offered his ``regret and remorse'' to those affected.
Sentencing the lorry driver, Mrs Justice McGowan said no powers the court had would lessen the ``terrible and devastating loss experienced in those affected''.
Accompanied in court by the High Sheriff of Berkshire, Victoria Fishburn, who wanted to show the county's concerns about the case, the judge paid tribute to the ``quiet dignity'' shown by the family members, saying she ``wholeheartedly'' supported their calls for greater public awareness about the dangers of using mobile phones when driving.
But the victims of the crash and their relatives dismissed Kroker's 10-year sentence - of which he will serve half behind bars - as ``not doing justice'' for the crime.
Speaking outside court on behalf of the family, Aimee's mother, Kate Goldsmith, said: ``Today Tomasz Kroker has been sentenced for killing much-loved members of our family.
``However, in our eyes, the sentence does not do justice to the crime committed. Tracey Houghton, her two sons, Ethan and Josh, and Aimee Goldsmith were innocent victims of his actions.''
Speaking to Thames Valley Police in the video posted above, the family members told of their grief.
Mark Goldsmith, father of Aimee and Jake, said Tracey was a ``bubbly, great mum who just loved to live life''.
He said of the camping trip: ``They (the children) loved all the jokes, playing cards, having a laugh, all the banter. We all sat down, had a bite to eat, just saying 'we can't wait to get home' ...
``And then we're all hugs and kisses and all got back in the car.
``We pulled up behind some lorries just crawling along, everyone slowed down, and then that was it: bang. I looked down at this car and went 'oh my god', I couldn't believe it.
``I held Jake and I must have realised who he was ... and then I just stood in the middle of a bloody road ... looking.''
Doug Houghton, Josh and Ethan's father, paid tribute to his ``beautiful boys''.
He said: ``I thought that was the worst day of my life, my kids being killed, but I think it was three weeks later when I went to the funeral directors and actually saw them dead, cold in their coffins.
``They wanted to go Pokemon hunting in Hyde Park and I said when you come back from holiday we can go down and spend a day in London.''
Kate Houghton, Aimee's mother, said: ``She wanted to be a vet, someone that looked after animals, and talked about having her own place where animals could go.
``She had a kitten for Christmas, his name's Vimto and he loves and misses her very much.
``I continue to see drivers using their phones and it sickens me.
``If they had seen the devastation they brought my family or to other families ...''