Man Jailed For Fatal Acid Attack In High Wycombe
31 July 2018, 17:07 | Updated: 31 July 2018, 17:16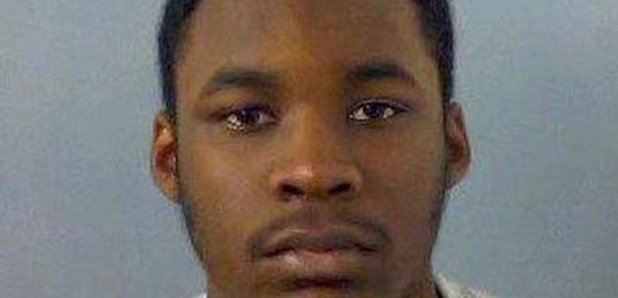 A teenager has been jailed for 17 years after being convicted of a manslaughter which was the first acid attack killing in the UK.
Xeneral Webster, 19, pleaded guilty to causing the death of Joanne Rand part way through his trial in April at Reading Crown Court.
Sentencing Webster, of Banstead Court, Westway, west London, Judge Angela Morris said: "You and your actions bear the responsibility for her tragic demise."
Webster was also given an extended licence period of three years.
Joanne Rand, 47, was sitting on a bench after visiting her daughter's grave in High Wycombe, Buckinghamshire, on June 3 last year when she suffered injuries which were to prove fatals.
Xeneral Webster, 19, was arguing with another man nearby when he took a bottle of sulphuric acid from his bag. It was knocked out of Webster's hand and splashed Ms Rand from head to toe.
The mother-of-three, who worked as a carer with dementia patients, died from multi-organ failure after contracting septicaemia due to the acid burns.
Her daughter, Katie Pitwell, 18, called for tougher sentences for acid attackers.
"I think the buying of acid needs to be restricted, but also, if someone is carrying it, there should be tougher sentences because most of the time they do intend to use it for harm," she said.
Webster, who admitted manslaughter while on trial for murder, had himself been a victim of an acid attack only months earlier, so was aware of the dangers.
"He knew how much it could hurt someone and yet he used the stronger acid anyway to hurt someone else," said Miss Pitwell, from High Wycombe.
"He went out with the intention of hurting someone and it's an innocent person that got hurt in this situation.
"People need to know that, if they're carrying that type of stuff, it's going to hurt someone or kill someone."
Miss Pitwell joined two of her mother's sisters, Lynn Ryan, 54, from Lincolnshire, and Jacqueline Joiner, 61, from Worcestershire, to speak out about the dangers of using acid as a weapon.
They described Ms Rand as "very bubbly and fun" and "outgoing" and said she "really cared about the residents she looked after".
Miss Pitwell said she did not realise how badly her mother had been injured.
"You never really think of that sort of thing happening to you, so it didn't really register how bad it was," she said.
"Then, as it went on, we realised how bad it was."
Mrs Joiner continued: "I think it was a mixture of anger at first - how could somebody do this to Jo, our sister? It was kind of upsetting for her what she was going through. The disbelief, shock.
"But we've kind of been sleepwalking through our lives for the past year, not thinking of it as real.
"It's like a nightmare and you just can't get your head round it - why it's happened and what happened to Jo."
Her death has not been the only tragedy to hit the family as Ms Rand's daughter, Charlotte Pitwell, 19, was killed in a road accident in 2011.
"It brought back memories of when Charlotte was killed so that made it worse because it's happened twice to our family now," Mrs Joiner said.
"But it's just ... you don't think this sort of thing happens to a normal family. It's not the sort of thing that would happen to us, so we don't understand why it happened.
"(He needs to be) made an example of so it doesn't happen again."
Mrs Ryan said she was angry that Webster had carried acid and called for children to be taught in school about the dangers.
"He must be evil to do something like that, surely?" she suggested.
"We try not to think about him, he's not important to us, Jo was. But we would like to see him have a fairly hefty sentence.
"There should be more education to teach younger people the consequences of carrying an acid or a liquid that is corrosive."
Miss Pitwell said would-be attackers needed to think about the harm they could cause.
"They need to think about all the people they could hurt, not only the person they're using it on but people's families and what impact it's going to have on everyone's future really," she said.
Mrs Ryan continued: "It's not the fact that it's dangerous, it's also the fact that it's very painful for the person that's got the acid burns. It eats away at your skin and your muscles so that sort of pain."
Miss Pitwell added: "And it's not just that. It physically scars someone for life as well, even if it doesn't kill them, they will still be scarred for life."
Mrs Joiner urged people not to carry acid and said: "It's also the mental scars as well as the physical because it's what it does to them. It must be frightening for them, for it to happen."
Following the attack by Webster, Ms Rand, who was discharged from hospital after treatment but later readmitted, was deeply affected by it.
Miss Pitwell said: "After it happened to my mum, she was scared of going out, she didn't want to be seen by people."