Molly & Quigley Need A Loving Home
27 October 2017, 12:00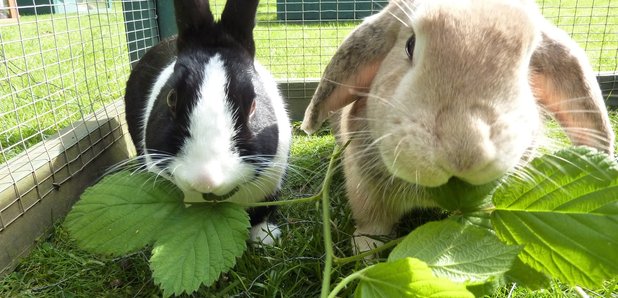 The fluffy bunnies have been at the Reading Rabbit Rescue centre for nearly four years waiting for someone to adopt them
Black and white Dutch rabbit Quigley arrived at the Reading Rabbit Rescue, run in conjunction with the RSPCA's Reading branch, in November 2012 having been found straying. He was introduced to beautiful fawn-coloured dwarf lop Molly who arrived the following month and the two soon bonded.
They were soon rehomed but, sadly, ended up back at the centre in February 2014 when their owner's circumstances changed and they could no longer care for them.
The bunnies, both thought to be around five-years-old, have now been patiently waiting for three years and eight months for the perfect forever home but continue to be overlooked by potential adopters.
Sandra and Steve Ayers, who run Reading Rabbit Rescue, said: "We think they are being overlooked because they are an older pair. Molly isn't an easy bunny to handle and there are so many pairs of younger rabbits who are easier to handle for potential adopters to choose from.
"The longer they have been with us, the harder it has become to generate any interest in them.
"It's such a shame because they are lovely bunnies and really deserve to have a home to call their own."
Molly and Quigley have seen around 160 of their bunny friends find hoppy new homes in the time they've been waiting.
The duo have enjoyed two spells in foster care - giving them a break from life in the rescue centre - but staff are hoping it'll be a case of third-time lucky for the furry friends.
Sandra and Steve added: "Quigley is easy to handle and is very friendly while Molly can be a bit of a diva so we think she'd be best suited to a home with an experienced owner.
"They love to snuggle up together, share delicious green treats and hop around their enclosure exploring new things.
"They would like a large home and an enclosure in the garden to enjoy."
The duo could live with older children (of secondary school age) and must stay together.
If you think you could offer them what they need, please contact RSPCA Reading with Oxon Border branch by emailing reading_rabbits@btinternet.com or visit the Reading Rabbit Rescue website. For more information about Molly and Quigley, see their online Find A Pet profile.