New Children's Air Ambulance For Oxfordshire
13 September 2018, 17:16 | Updated: 13 September 2018, 17:19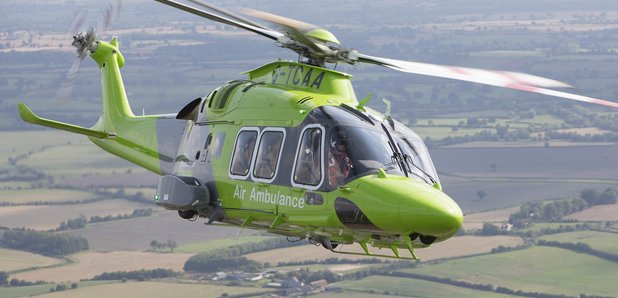 Critically ill babies and children in Oxfordshire now have atheir own air ambulance service.
The Children's Air Ambulance (TCAA) is the first and only dedicated paediatric and neonatal transfer helicopter service in the country operating four times faster than road transfer. It will be operational from London Oxford from Monday 17 September.
The charity is funded entirely by donations and works closely with nine NHS Clinical Partner Teams such as the Southampton Oxford Retrieval Team (SORT) and Southampton Oxford Neonatal Transfer service (SONeT).
Speaking at a ceremony to unveil the new aircraft and airbase, TCAA CEO Andy Williamson said:
"This is the culmination of a long and difficult journey to provide this unique service and I am very proud to see it come to fruition and of all those involved in making the dream in Oxfordshire a reality.
"The difference the charity's two new helicopters will make to children, parents and NHS doctors and nurses involved in paediatric and neonatal specialist air transfers is very significant and that's what this charity is all about."
The AgustaWestland 169 Helicopters will be based in Oxford and Doncaster, and will be the only flying intensive care units in the country dedicated to transferring critically ill children and babies from local hospitals to specialist paediatric and neonatal treatment centres.
The bespoke equipment on-board includes a specially designed stretcher system and clinical interior, incubator and extra seat for a parent to be able to accompany their child.
These state of the art facilities make the helicopters second to none in the provision of paediatric and neonatal transfers.
TCAA Director of Operations Richard Clayton added:
"What a monumental day for the charity and for Oxfordshire. It's been an incredibly complex project to manage but now the exciting work really starts as we open our new airbase in readiness for transferring our first patient.
"Oxford provides the perfect location for us to work closely with our NHS Clinical Partners in delivering the highest level of paediatric neonatal care to the southern regions of the country.
"We're very proud to launch our service in the heart of Oxfordshire and look forward to working with supporters from the county to ensure we're able to keep our aircraft flying, keep hope alive and keep families together."
The expansion of the charity and service has been welcomed by the nine clinical partners nationwide that it currently works in partnership with and at absolutely no cost to the NHS.
'We are very excited about the new opportunities that the second aircraft offers to the Southampton SONeT team in moving unwell and premature babies," explained Sarah Davidson, Consultant Neonatologist, Southampton Hub Lead SONeT.
"The charity is a real support to us providing our service and we are proud to partner with them."
Find out more at www.childrensairambulance.org.uk