Oxford-Born Professor Stephen Hawking Dies Age 76
14 March 2018, 13:21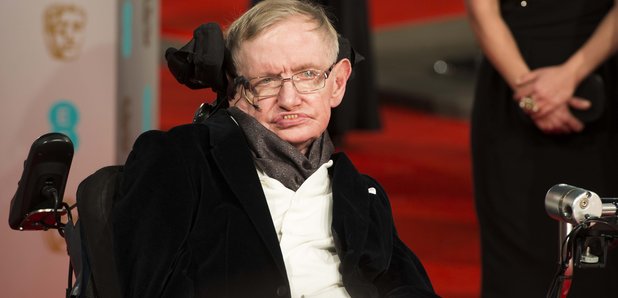 Fans have been paying tribute to Professor Stephen Hawking, who's died at the age of 76.
The world famous scientist's family say he passed away at his home in Cambridge in the early hours of this morning.

He'd contracted Motor Neurone Disease in his early 20s, and was given just two years to live, but went on to become one of the world's most renowned physicists - writing many books including a Brief History of Time, which sold more than 10 million copies.

The Oxford University graduate's children have released a statement calling him "a great scientist and an extraordinary man whose work and legacy will live on for many years."

He was given more than a dozen honorary degrees throughout his career and was awarded the CBE in 1982.
The Prime Minister has described Professor Stephen Hawking as a "brilliant and extraordinary mind".

In 2014 - the story of his life and career was made into an Oscar winning film - 'The Theory Of Everything', and was played by Eddie Redmayne.
Redmayne said in a statement: "We have lost a truly beautiful mind, an astonishing scientist and the funniest man I have ever had the pleasure to meet.
"My love and thoughts are with his extraordinary family."


The University of Cambridge, where Professor Hawking studied and worked, will open a book of condolence.
The University of Oxford posted on Facebook: 'We're very proud to call Stephen Hawking an alumnus of Oxford, and enormously saddened by his passing. Our thoughts are with his family.
'He reminded us all to "be curious", for there is "always something you can do and succeed at".'
Oxford Uni Students Union said: 'Professor Stephen William Hawking was one of our most famous alumni and one of the world's greatest minds. A renowned physicist and an inspiration across the globe. Stephen will never be forgotten for his contributions to science.'
Astrophysicist Neil deGrasse Tyson was one of the first to pay tribute to Professor Stephen Hawking following his death aged 76.
Sharing a photo of himself and Prof Hawking on Twitter, he said: "His passing has left an intellectual vacuum in his wake. But it's not empty. Think of it as a kind of vacuum energy permeating the fabric of spacetime that defies measure. Stephen Hawking, RIP 1942-2018."
The Twitter page for US TV show The Big Bang Theory tweeted a picture of the cast with Prof Hawking, who starred as himself in several episodes of the sitcom.
The tweet said: "In loving memory of Stephen Hawking. It was an honor to have him on The #BigBangTheory. Thank you for inspiring us and the world."
Pop superstar Katy Perry said "there's a big black hole in my heart" following Prof Hawking's death.
Actor Kumail Nanjiani, who was nominated for an Oscar for the screenplay he co-wrote with his wife Emily V Gordon about her chronic illness, also paid tribute.
He said he was "very sad" to learn of his passing and urged fans to read A Brief History Of Time.
"It'll make the world feel more amazing and beautiful and strange. It'll also make you feel smart and stupid all at once," he added.
Nasa remembered Prof Hawking as a "renowned physicist and ambassador of science".
"His theories unlocked a universe of possibilities that we & the world are exploring. May you keep flying like superman in microgravity, as you said to astronauts on @Space_Station in 2014," the organisation tweeted.