Oxford Reveals Vision For Year 2050
12 March 2018, 07:37 | Updated: 12 March 2018, 07:42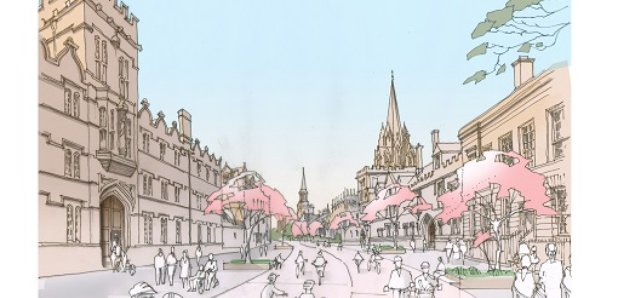 Oxford Council's published its vision for how the city will look, feel and operate in the year 2050.
The report follows a huge consultation, which found people want Oxford to be more affordable to live in - with the city's heritage and environment protected.
The City Council carried out months of consultation with residents, businesses, universities and other stakeholders, whose ideas, aspirations and dreams were then fed in to the final statement.

Oxford2050 also provides a longer-term framework within which to plan Oxford. It will be a blueprint for the city, setting out our direction of travel, and it will influence all our key policy statements in future years, including future versions of the City Council's Local Plan.
Oxford2050 has five themes: the built and natural environment, work and learning, transport and connectivity, people and community, and culture and leisure.


In each theme, the document sets out the city's aspirations for life in 2050, including:
Built and natural environment:
o The city's heritage and natural environmental will be protected
o Oxford will be an affordable place to live
o Oxford will be a clean and accessible city
Work and learning:
o Oxford will have full employment
o The city will be a global centre for the knowledge-based economy
o All Oxford residents will benefit from the economy
Transport and connectivity:
o Oxford will be better connected to the region and nationally
o People will be able to move around the city easily in non-polluting ways
o Streets will prioritise pedestrians and cyclists
People and community:
o People will be able to live fulfilled, happy and healthy lives
o Oxford's diverse communities will have a strong sense of togetherness
o Deprivation and inequality will have been reduced across Oxford
Culture and leisure:
o Oxford will have world-class cultural and leisure facilities
o The cultural and leisure offer will reflect the city's diverse communities
o Oxford's public realm will encourage active lifestyles

Oxford City Council carried out a two-month public consultation, running from November 2017 to January 2018, to get the views of Oxford residents. In total, the City Council received 562 responses, which included more than 75,000 words.

On top of this, the City Council received a number of submissions from key stakeholders across the city and held a series of workshops to get the views of community groups, charities, businesses, universities and other Oxford institutions. Pupils from Windmill Primary School and sixth form students from Cheney School also contributed their opinions in the form of models, pictures and videos.

The City Council commissioned local artist Robert Eyles to produce 10 artist impressions - two for each theme - to help bring to life the vision.


Oxford2050 will now underpin the City Council's work going forwards, including as the basis for future Local Plans (which set out how the city will develop over time), and Corporate Plans (which set out the City Council's priorities and planned work).

Councillor Susan Brown, Leader of Oxford City Council, said:
"A vision for Oxford's future that we can use to guide the City Council's policies is a real asset that will help us meet the aspirations of Oxford city residents.

"We are very grateful to the large number of people who took the time to send us their thoughts, a number of which were very detailed, during the consultation. Without them we could not have produced this document. We hope, thanks to the input from so many residents, that the vision reflects the hopes and aspirations of the city.

"Ultimately, we do not know how technology, global politics or climate change will affect Oxford over the next 32 years, and for that reason the vision will be a living document that we update every four years to reflect current thinking.

"For now, Oxford2050 gives our direction of travel; and I hope a great many of us can look back in 2050 and see the benefits of what was started in 2017."
Oxford2050 will be a living document and will be updated every four years to incorporate changing technologies and social and economic changes that will have taken place since 2018.

For more information visit oxford2050.com.