Oxford River Crossing To Re-Open
20 October 2017, 10:00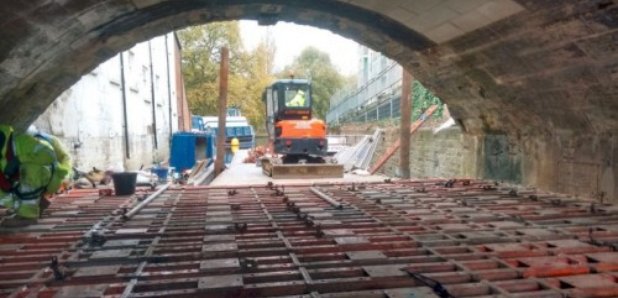 Folly Bridge repairs will finish on Saturday with both lanes fully open again on Sunday
Contractors have been working since September on a major project to replace crumbling stonework in the bridge arch and resurface the road.
This highly complex job has required a team of skilled workers to carry out repairs from a specially constructed platform over the Thames, with tonnes of steel being installed to form a temporary support to allow the road above to remain open.
Meanwhile engineers have also been carefully removing and replacing the road surface – a job complicated by the presence of important utility pipes and cables.
Work will continue underneath the bridge to replace the last of the crumbling stones, but from Sunday the road itself will be back to normal.
Engineers faced a number of challenges in doing the work. The bridge is home to Daubenton's bats – a species that chooses to live near water. All bats in Britain are protected under wildlife conservation regulations.
The bridge itself is also a listed structure which means that the work done has to be done to strict standards using approved stonework and techniques.
In addition there are numerous services such as gas, water, electricity, phone lines crossing the bridge which need to be protected while the work is carried out.
Before the work could start the bats had to be excluded temporarily and an alternative bat roost provided nearby. Bat roosts will then be built back into the repaired stonework within the bridge arch.