Oxford Underdogs For Boat Race
27 February 2018, 09:02 | Updated: 27 February 2018, 09:11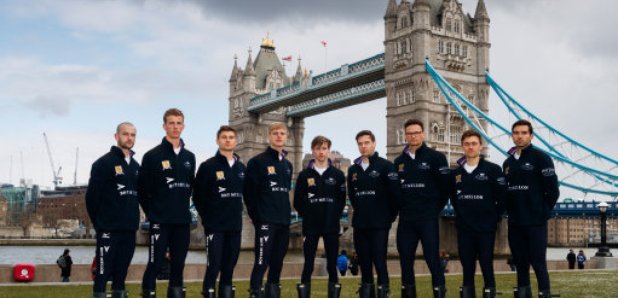 Early favourites Cambridge have worked "harder and for longer" than ever before ahead of this year's Boat Race, according to departing coach Steve Trapmore.
The 2000 men's eight Olympic champion will leave his role as Cambridge head coach straight after next month's Boat Race, to join Team GB's high performance rowing programme.
Cambridge could well hand Trapmore a third triumph in eight years as a departing gift however, with even Oxford's seasoned coach Sean Bowden installing their bitter rivals as marginal favourites.
"I think more than ever this team has worked harder and for longer than any preceding team," said Trapmore, of his Cambridge crew.
"I'm really pleased that some real resilience is starting to show through.
"We've still got a lot to work on, but right now things are going okay.
"Oxford are going well too, the squads are a lot more even than they have been in recent years, so that's fantastic.
"We know we're in with a chance, they know they're in with a chance too.
"So as far as I'm concerned it's all about who turns up on the day. Whoever races best on the day will claim victory."
Trapmore hopes his Cambridge legacy will extend far beyond mere results, once he trades university coaching for Olympic rigour.
The 42-year-old set to work in Cambridge in 2011 in a tin hut, and leaves with a multi-million pound purpose-built training base in place.
"The week after the race I'll be working with Jurgen Grobler with the Olympic programme, in an environment where I've always dreamed of coaching," Trapmore told Press Association Sport.
"I wasn't expecting it, but it was a long-term target of mine.
"I've competed on that stage as an athlete but I never really saw myself leaving Cambridge any time soon because of what we've collectively developed.
"When I first turned up there was no structure, no stability, no decent training programme, the athletes were all over the place, they had no confidence.
"Slowly we've built the infrastructure. When I turned up it was just me in a tin shed office, which actually I love. Now we have a specially-built base.
"But it's just a sign of how far things have come and how bright the future is.
"For me I'll be very, very sad to leave, because I was fully expecting to stay for a good while longer.
"But it's the next step for me, not that I'm focused on it right now. I'm fully focused on the Boat Race of course."
Oxford chief coach Bowden has led the Dark Blues to 12 wins in the last 18 races, but admitted at this stage Cambridge hold the edge.
"We have to be better than we are now if we want to be in with a decent chance," Bowden told Press Association Sport.
"But we are making progress and if we can build on where we are now, then we can be back in the hunt.
"It's still on us to catch up, we're still the crew that has to find the speed, and Cambridge are still the target of where we are realistically this year.
"But we've been in difficult situations before, and you still have to win this race."