Oxfordshire Fire Crews At Thatch Cottage Fire
16 April 2017, 13:01 | Updated: 16 April 2017, 13:08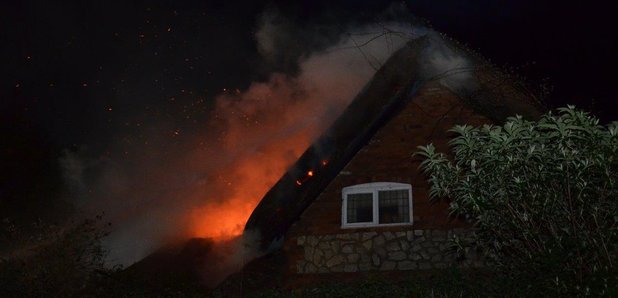 Fire crews from Oxfordshire have spent hours tackling a fire at a thatch cottage near Faringdon.
Latest Statement from Oxfordshire County Council Fire & Rescue Service
On Saturday 15th April at 7.21 pm Thames Valley Fire Control Service received a call to a fire involving the thatch roof of a Grade 2 listed cottage in Knighton near Faringdon. Firefighters with 10 fire engines and 4 specialist support vehicles from Oxfordshire County Council Fire & Rescue Service and Dorset & Wiltshire Fire & Rescue Service were immediately deployed to the incident. On arrival the fire crews were faced with a well developing thatch roof fire.

At the height of the fire 60 Firefighters using hose reels and firefighting jets working together to extinguish the fire, along with a fantastic effort to salvage the contents of the property and stop the fire spreading to nearby thatch cottages.


Incident Commander Group Manager Mike Adcock said "Thatch fires take a lot of firefighters to tackle the fire, as we need to act quickly to stop the fire spreading and save as many items from the house as soon as possible. We do this by working in teams and take great care in retrieving valuables and protecting furniture from the fire and water, firefighters worked tirelessly together to achieve this".

The cause is being investigated by our specialist fire investigators.

South Central Ambulance Service and the British Red Cross were also on scene supporting the fire crews and the occupiers.