Plan To Tackle Illegal Puppy Farms
22 December 2017, 07:00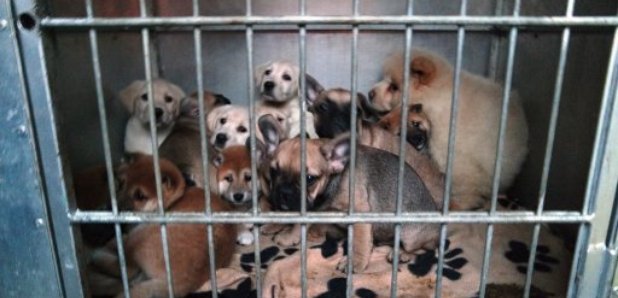 This year the RSPCA's had 52 calls about dodgy breeders in Berkshire and 40 in Oxfordshire.
The RSPCA has welcomed plans announced by the Government to crack down on dog breeders in England who put profits ahead of the health and welfare of the animals - as the charity revealed 2017 was its busiest year yet tackling the illegal puppy trade.
Defra has today announced proposals to tighten regulations around the breeding and selling of puppies in England - in a move which it's hoped will help eradicate the underground, illegal puppy trade which is worth millions of pounds a year. It is the biggest change in pet vending for 66 years.
The Government has announced that it is developing proposals, including:
Ensuring that licensed dog breeders must show puppies alongside their mother before a sale is made;
Tightening regulations so that puppy sales are completed in the presence of the new owner - preventing online sales where prospective buyers have not seen the animal first and only allowing sales of puppies from the premises
Insisting licensed dog breeders can only sell puppies they have bred themselves;
Regulating adverts, including on the internet, by ensuring licensed sellers of all pets, including puppies, include the seller's licence number, country of origin and country of residence of the pet in any advert for sale.
Under the new rules puppies bred by licensed breeders will have better protection under law; anyone selling a puppy, including online, will need to get a licence and display that licence number; and buyers will need to see the puppy with the mother at the place it was bred before being able to complete a purchase.
RSPCA interim chief executive Michael Ward welcomed the announcement: "This is good news for the hundreds of thousands of dogs bought and sold in England every year.

"This year our inspectors, working with the police and councils, rescued hundreds of puppies and breeding dogs being kept in miserable, squalid conditions by heartless people cashing in on the growing market for puppies.
"We hope these proposed licensing conditions for England, which include a ban on breeders selling puppies other than from their licensed premises, will improve the welfare of puppies and their parents and also crackdown on the multi-million pound illegal trade making it less likely that people are duped by rogue dealers.
"We also welcome moves to stop the illegal smuggling of puppies which is a vile trade resulting in the suffering and death of countless dogs."
The RSPCA is opposed to third party sales of puppies and hope these new measures will go some way to achieving that goal.
The RSPCA is also pleased to see Defra pledging to look into future measures to tackle the illegal smuggling of puppies, which is another major welfare issue within the underground puppy trade.
It comes as the RSPCA reveals it rescued 295 dogs from puppy farms and unscrupulous breeders in 2017 (up to 20 December) - bringing the total number of dogs rescued since 2013 up to 1,749. The charity has seen its busiest year yet investigating complaints relating to the puppy trade with 4,125 calls in total in England. That's an 11.8% increase compared to last year.
Just last month we - as part of a multi-agency taskforce called Operation Delphin - intercepted a shipment of seven puppies being smuggled through Fishguard Port, in Wales.
The puppies - two foxhound types and five cocker spaniels - were found in two crates in the boot of a car which disembarked a Rosslare to Fishguard ferry at 1.30am on 23 November. The dogs were thought to be between eight and 10-weeks-old and were subject to welfare concerns.
The charity also welcomes the news that there will be plans to address the breeding of dogs with harmful genetic disorders.
RSPCA dog welfare expert, Lisa Hens, said: "The RSPCA has long held grave concerns for the many dogs who continue to suffer ill-health and welfare because they have been bred primarily for how they look.
"We believe that all those who breed dogs - whether pedigree, purebred or crossbreed - should prioritise health, welfare and temperament over appearance when choosing which animals to breed, in order to protect the welfare of both the parents and offspring, and welcome proposals to address this.
"We would welcome further information on these proposals and how they would be enforced."
The Government has also confirmed that it will be taking forward the recommendations made by Defra earlier this year in respect of the consultation on the breeding and selling of animals in England. The RSPCA is hopeful that this set of new regulations and licensing conditions will better protect the welfare of dogs and puppies, and help keep people safe from falling victim to these unscrupulous sellers.
The RSPCA always encourages people to consider rehoming a rescue dog and encourage anyone thinking of taking on a dog to look on our website. For those who want to buy a puppy, we urge them to download the free Puppy Contract to help ensure they buy a happy and healthy dog.