Police Watchdog Investigates Fatal Patrol Car Crash
31 January 2018, 10:16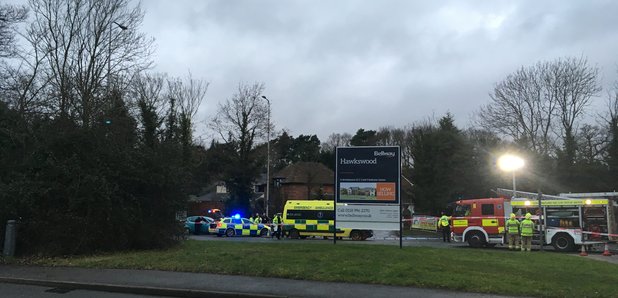 Investigators say a police car did have its blue lights on before a crash which killed two women near Reading.
Ann Valley and Gwyneth DeCamps, who were both in their 80s, died in a collision on the A4 Bath Road in Calcot.
Their Nissan Micra collided with the unmarked patrol car near the entrance to a golf course.
The police watchdog is checking the car's speed and movements before it happened last Tuesday.
An IOPC spokesman said: "We were informed by Thames Valley Police of the collision and we declared an independent investigation.
"IOPC investigators went to the scene of the incident that night to begin gathering evidence.
"The incident data recorder (IDR), which records the car's speed and movements, will be downloaded from the police car and will be analysed as part of the investigation."
IOPC Regional Director for the south east Sarah Green said: "My thoughts are with all of those affected by this tragic event.
"Our family liaison manager has met the families of Mrs Valley and Mrs DeCamps to offer our condolences and to tell them about our role and our investigation.
"We have placed witness appeal boards in the area and if anyone else can assist us to establish what happened, for the benefit of all of those affected, please make contact with our investigators."
Anyone who saw the crash are asked to email calcot@policeconduct.gov.uk or to call us on 0800 096 9077.