Rare Butterfly Spotted In Oxfordshire
19 August 2018, 10:12 | Updated: 19 August 2018, 10:15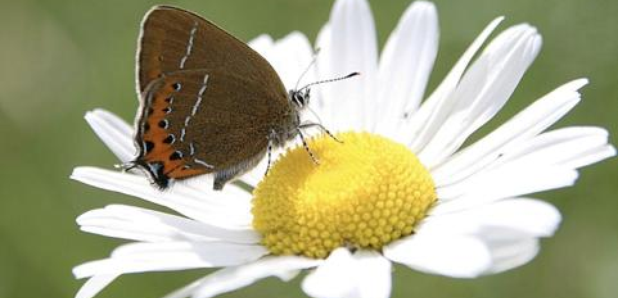 Experts say a rare butterfly has returned to a West Oxfordshire beauty spot after 30 years away.
The Black Hairstreak was seen on North Leigh Common – the first time it has made an appearance there since 1988.
It was spotted by Stuart Hodges of Butterfly Conservation at the site which is maintained by West Oxfordshire District Council after reports the hot summer was encouraging increasing numbers.
Mr Hodges said: "We had tried unsuccessfully to find it at North Leigh Common before. The last time we have any reference of it being seen there was in 1988 which was an exceptional year not equalled until this year."
The sighting was particularly significant as the Black Hairstreak has a very limited range with most colonies limited to Oxfordshire and Buckinghamshire. It is only seen in June and early July.
The butterfly relies on the presence of blackthorn to lay its eggs and the plant is found in the wooded area of North Leigh Common.
The open common land is set to be the subject of a new management plan set up by the Council in the hope of encouraging the Black Hairstreak to thrive along with other flora and fauna.
Cllr Steve Good, Cabinet Member for the Environment, said: "It is fantastic to hear that such a rare species of butterfly has been seen in the District and through woodland management we will look to protect and develop its micro-environment by retaining blackthorn."