Reading Celebrate Women's Hockey Rio Gold
20 August 2016, 12:48 | Updated: 20 August 2016, 12:54
Huge Celebration overnight as three players in TeamGB play for Reading Hockey Club

Kate Richardson-Walsh paid tribute to Great Britain coach Danny Kerry for fostering the tactical awareness and the indomitable spirit which secured Olympic gold.
Britain twice fought back to draw 3-3 and then won the penalty shootout courtesy of heroics from goalkeeper Maddie Hinch and nerveless efforts from Helen Richardson-Walsh and Hollie Webb.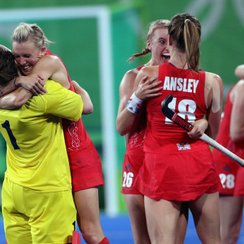 Kerry led Britain's women to bronze at London 2012 before becoming British Hockey performance director. Two years later he returned as coach.
Kate Richardson-Walsh, who retired on a high after her four Olympics, said: ``Danny is a master tactician. He understands the game and spends hours looking at the opposition to find the little differences we can make in our games, the little tweaks we can make tactically game to game.
``I think that's partly won us this medal.
``The other thing Danny's really strong on is team culture. When he came in a couple of years ago, he really worked hard with the leadership group - myself, Helen and Alex (Danson), Emily Maguire and Ash Ball - to really form the culture of this squad.
``I think that's what you see. When you see us running out together, when you see us huddling at the end of a game, running off to the changing room at half-time.
``That's culture. That's what makes us tick, that's what makes us strong, that's what makes us tight. So under pressure small cracks don't become big ones. We can deal with all those stresses and pressures together as a unit.''
Holland were piling on the pressure in Friday night's final, but Britain did not relent and Kerry's tactical tweaks in the final quarter pushed the world champions back and Britain found an equaliser to force penalties.
Kerry said: ``We have a thing called 'Thinking Thursdays'. It's two hours of very physically and mentally hard training and preparation where we always talk about finding a way to win and that's what it was today.
``It's working them to the absolute nth degree in terms of intensity but they have to win the game by doing certain things and it requires them to think their way through when they're absolutely dead on their feet.
``We know there are certain games at the top end of the world game where that's what it's about.
``We had to defend, we had to dig trenches. Then we changed stuff in the last quarter and it paid off.''
Kate Richardson-Walsh has retired from internationals and Helen Richardson-Walsh, her wife, is almost certainly going to come to the same decision.
Sharing the top step of the podium after four Olympics and numerous tournaments in between was a fitting finale.
Helen Richardson-Walsh said: ``We've had 17 years of many ups and downs, most of them downs, probably.
``We started very low, at eighth in Sydney and from that moment we just wanted to win an Olympic medal.
``Until the London cycle it was really a dream. But the London cycle really turned everything around. We started to get loads of belief within the squad.
``It's not been easy and it just shows that if you put your mind to it and dedicate your life to something you can make it happen.
``It's just incredible for hockey and for our sport in our country.''