Retractable Electric Car Chargers For Oxford
15 May 2018, 12:42 | Updated: 15 May 2018, 12:43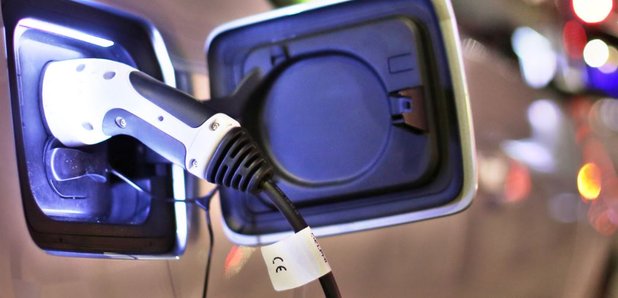 Oxford's been awarded £474,000 to trial 'pop-up' electric vehicle charging points - which would be a world first.
People in the city can nominate their streets to get the chargers, which will be app-operated and will retract underground when not in use.
The project will see 20 'UEone' retractable pavement bollards installed on streets with on road, off pavement parking. The scheme will be available to residents who currently have electric vehicles, and those who want to own an electric vehicle.
The successful bid was made in partnership with Duku, Urban Electric and Oxford City Council and has been awarded £473,595 of funding. The overall cost of the project will be £600,000, with the remaining funding coming from Urban Electric via private investment.
The 'pop-up' charging points will be made by Urban Electric Networks, who led the bid. The City Council's Sustainable Cities Team will work with Oxford Direct Services and Scottish and Southern Energy Networks (SSEN) to facilitate installation. Oxford Direct Services will be the installation contractor for the project.
The funding was awarded under Innovate UK's strand 2 Infrastructure Systems competition. Innovate UK is the UK's innovation agency. It works with people, companies and partner organisations to find and drive the science and technology innovations that will grow the UK economy. The project will support the existing Go Ultra Low Oxford on-street residential charging project.
The Go Ultra Low project is a trial by Oxford City Council and Oxfordshire County Council, aiming to reduce air pollution and further lower Oxford's carbon emissions. It has been made possible by a £800,000 grant from the Government's Office for Low Emission Vehicles (OLEV). The scheme has seen 100 electric vehicle charging points installed in residential streets across Oxford. It is thought to be the first on-street charging pilot of its size in the world.
In order to tackle harmful air pollution levels across Oxford, Oxford City Council and Oxfordshire County Council announced plans in October 2017 to introduce the world's first Zero Emission Zone in Oxford city centre.
The zone will restrict vehicles in phases, taking into account the best available technology, starting with some vehicle types and a small number of streets in 2020 and, as vehicle technology develops, moves to all vehicle types across the whole city centre in 2035.
Its full implementation would take air pollution levels in Oxford city centre down to near-background levels. For example in the city centre's most polluted street, George Street, a 74 per cent reduction in toxic nitrogen dioxide (NO2) levels is expected by 2035.
The new money is part of a wide range of Oxford City Council projects – worth £3.25m in total – to help businesses and residents prepare for the Zero Emission Zone, including securing:
£500,000 of Government funding to install 19 electric vehicle charging points for the exclusive use of hackney and private hire taxis
£1.7m of Government funding to upgrade five sightseeing buses to be fully electric, and 78 local buses to become ultra-low emission
£800,000 of Government funding to install 100 electric vehicle charging points for residents across Oxford as part of a "globally significant" research trial
Earlier this year (March), following a landmark legal ruling, the Government pledged "a more formal approach" to supporting the City Council in tackling Oxford's illegal levels of air pollution.
Councillor Tom Hayes, Board Member for Safer, Greener, and Environment, said:
"Everything Oxford does to tackle emissions has to be practical if it's going to be effective. We have set ourselves the big goal of introducing the world's first zero-emissions zone to clean up our toxic and illegal air. But, we will only achieve that goal if we support and encourage local drivers to replace their older polluting vehicles with cleaner versions. I'm thrilled that the Council has secured funding to support the world's first pop-up electric vehicle charging points trial, and that this sits within our practical approach to cleaning up our dirty air."