Study Shows Eight Schools Dominate Oxbridge Admissions
7 December 2018, 15:17 | Updated: 7 December 2018, 15:27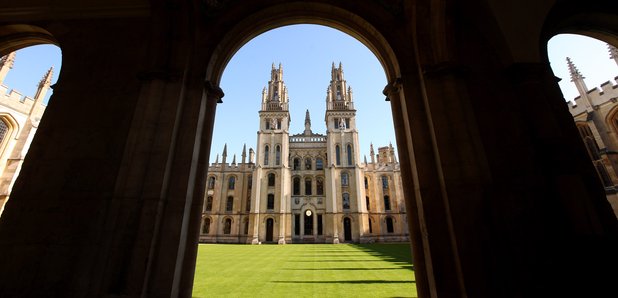 Eight of the UK's top schools get as many students into Oxford and Cambridge universities as three-quarters of all schools and colleges put together, a study has found.
Analysis by social mobility charity The Sutton Trust showed that eight schools sent 1,310 pupils to Oxbridge over three years, while over the same period, 2,894 other schools sent just 1,220 students between them.
The eight schools were not named, but the charity said high levels of additional, specialist support at independent schools could explain why such a small number of institutions dominated Oxbridge admissions.
The report also found that 42% of places at Oxford and Cambridge go to independent school students, even though just 7% of the general population attend a private school.
Other key findings in the Access to Advantage report included:
- Independent school pupils are seven times more likely to gain a place at Oxford or Cambridge compared to those in non-selective state schools, and over twice as likely to take a place at Russell Group institutions.
- 21% of higher education applications from independent schools are for Oxford or Cambridge, compared to 5% at comprehensive schools and 4% at sixth form colleges.
- Schools with similar exam results had very different rates of progression to top universities, and especially to Oxbridge. Almost a quarter (23%) of students in independent schools in the top fifth of schools for exam results applied to Oxbridge, but only 11% of students in comprehensives in the same high-achieving group of schools did so.
Meanwhile, the study, using data from between 2015 and 2017, also highlighted disparity among higher education applicants from different parts of England, with around 6% from the South East, South West, London and east of England going to Oxbridge, compared with only 3-4% of those from the North or the Midlands.
Several parts of the country had two or fewer acceptances to Oxbridge from state non-selective schools in all three years examined, including Halton, Knowsley, Lincolnshire, North Lincolnshire, Portsmouth, Rochdale, Rutland, Salford, Southampton and Thurrock.
The Sutton Trust said action was needed to address the "patchwork of higher education guidance and support".
Founder Sir Peter Lampl said: "All young people, regardless of what area they grow up in, or what school they go to, should have access to high-quality personal guidance that allows them to make the best informed choices about their future.
"The admissions process also needs to change. We have made the case for giving poorer students a break through contextual admissions, but we also need universities to make it clear what grades these students need to access courses."
The Russell Group, which represents 24 leading UK universities including Oxford and Cambridge, said it was working hard to improve social mobility.
Chief executive Dr Tim Bradshaw said: "Russell Group universities believe strongly in the transformative power of higher education. We want to recruit students with potential and drive, regardless of background.
"There has been progress in recent years but today's research underlines that this remains a big challenge.
"The root causes of under-representation are complex and solving them is a shared social mission, bringing together universities, schools, families and the Government."