Students Angry Over Oxford Union Invite For Steve Bannon
15 November 2018, 13:56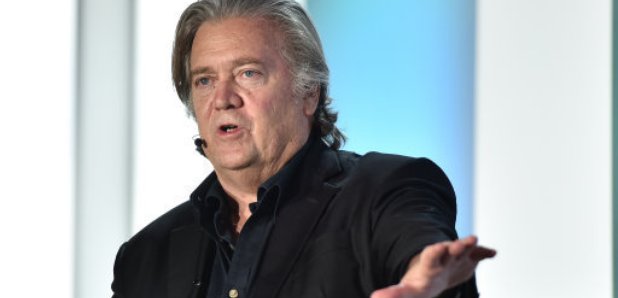 Students have slammed a decision by the Oxford Union to invite former Trump aide Steve Bannon to speak to its members.
The former White House strategist is due to visit the 195-year-old debating society this Friday (November 16).
His planned appearance has sparked anger on social media, with protests being organised by students.
Mr Bannon, who worked on Donald Trump's successful presidential election campaign, has been criticised for his support for right-wing political causes.
On Facebook, the Oxford Students Stand Up To Racism group said Mr Bannon was "the white supremacists' link to Donald Trump's White House until August 2017".
"The Oxford Union is once again giving a platform to a far right speaker, and by doing so legitimising racism," the group wrote.
The Oxford Union, which describes itself as the 'last bastion of free speech', said Mr Bannon will deliver some remarks and take questions at the members-only event.
An open letter has been posted online asking people to support calls for the Union to call off the event.
"We call on the Oxford Union to stop giving credibility to racism and fascism and cancel the invitation to Steve Bannon," the letter says.
On Twitter, The Hope Not Hate campaign also criticised the Union's move, saying Mr Bannon was "whipping up hate and division".
"This might be a game to those running the Oxford Union, but this invite only serves to further Bannon's cause," it said.
But Stephen Horvath, President of the Oxford Union, said: "I am sure that there will be people who challenge the value of free speech in relation to this invitation.
"The event with Mr Bannon provides an opportunity for our members to hear from an individual who has been at the centre of the rise in right-wing populism, as well as to critically question and debate the ideas and rhetoric of Mr Bannon.
"It is only through listening to the opinions of others that we can fully understand those opinions.
"Whether we are inclined to agree or disagree with them, there is a profound intellectual value in critically thinking through why it is that we agree or disagree instead or just rejecting them out of hand."
The Oxford Union announcement comes after Scottish First Minister Nicola Sturgeon withdrew from an event in Edinburgh because Mr Bannon was one of the main speakers.