Swan Upping Underway
17 July 2018, 15:36 | Updated: 17 July 2018, 15:44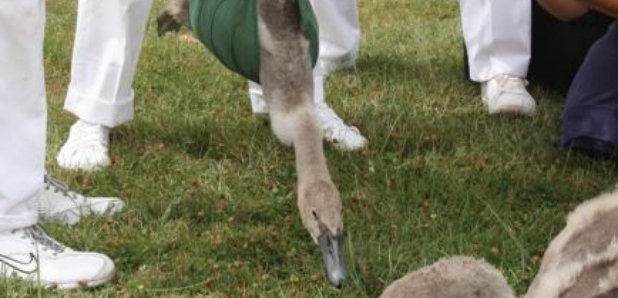 The annual census of the Queen's swans is underway along the River Thames in Berkshire and Oxfordshire this week.
Cygnets are weighed and measured and checked for injuries then out back in the water - more than 30 were were killed by bird flu back in February but the Queen's Swan Marker David Barber doesn't think it's had much effect on cygnet numbers.
It takes the Royal Swan Uppers five days, travelling from Surrey to Abingdon Bridge. They wear the scarlet uniform of The Queen and use traditional rowing skiffs
The teams always raise a toast to the Queen at the end of the first day.
The observation points and times are as follows (all times given are approximate):
Monday 16th July 2018
Sunbury 09.00 - Departure point
Shepperton Lock 10.15
Penton Hook Lock 12.30
Romney Lock 17.30
Tuesday 17th July 2018
Eton Bridge 08.30 - Departure point
Boveney Lock 09.30
Boulters Lock 12.00
Cookham Bridge 13.00
Marlow Lock 17.00
Wednesday 18th July 2018
Marlow Bridge 09.00 - Departure point
Hurley Lock 10.30
Hambleden Lock 12.00
Henley Town 13.30
Marsh Lock 15.30
Shiplake Lock 17.00
Sonning Bridge 18.00
Thursday 19th July 2018
Sonning-on-Thames 09.00 - Departure point
Caversham Lock 10.15
Mapledurham Lock 12.15
Goring Lock 17.00
Moulsford 18.00
Friday 20th July 2018
Moulsford 09.00 - Departure point
Benson Lock 10.15
Clifton Hampden Bridge 13.00
Culham Lock 16.15
Abingdon Bridge 17.00