Tablet Devices Fitted To Berkshire Fire Engines
28 November 2018, 16:30 | Updated: 28 November 2018, 16:33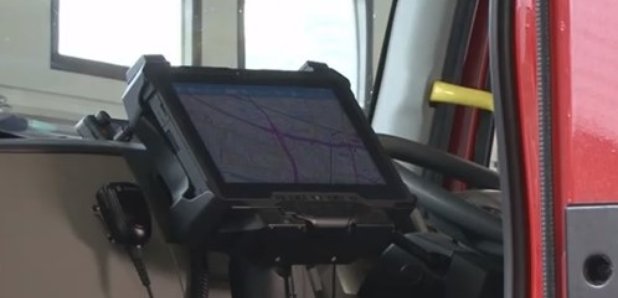 New tablet devices have been fitted to the dashboards of fire engines across Berkshire to give firefighters up-to-the-minute information.
The Dell Latitude tablet device will be used to mobilise crews and provide vital information on the way to an emergency.
The system will send live status updates to the control room and other operational crews that are on their way or already at an incident.
It will also give additional safety data, for example: chemicals stored on site, details on the occupancy of the premises, mapping details, which includes street and road names, as well as the location of other RBFRS resources.
Councillor Angus Ross, Strategic Asset Lead Member for Royal Berkshire Fire Authority, said:
"The Fire Authority has invested to change all the existing MDTs to this more agile device, which allows the crews instant access to information that is vital for rescues or firefighting.
"In addition, the MDTs also utilise the telecommunication system used when the fire engine is mobilised to an incident, meaning they can receive instant updates that can help the crew decide how to respond to an incident in advance of arrival, enabling them to work more efficiently and effectively.
"As well as providing a wealth of information that can support them on the way to and at an emergency, they can also now connect to Wi-Fi for system updates, providing technological advancements almost immediately and excellent value-for-money as previously, all updates had to be completed manually by one of RBFRS' ICT Technicians."