Temporary Signs At M40 Junction Warn Wrong-Way Drivers
14 February 2019, 17:40 | Updated: 14 February 2019, 17:47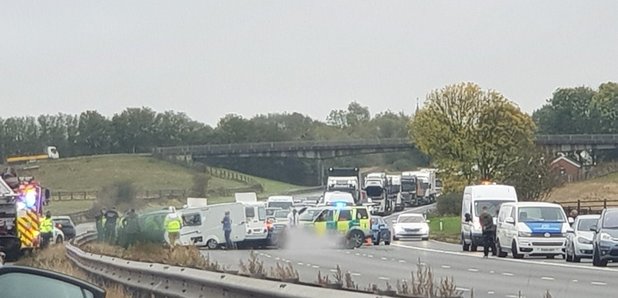 Drivers going the wrong way onto the M40 in Oxfordshire have led to temporary warning signs being put up at junction 8a.

On Monday an elderly woman was seen on the wrong carriageway near Wheatley - in October, three people were killed in a crash.
A review's looking at whether extra warnings should be permanent.
In a statement, Oxfordshire County Council said:
"The access to junction 8a of the M40 is properly signed with 'no entry' signs, solid white lines and chevron signs. We are awaiting confirmation whether the driver did enter the M40 at this junction as reported.
"However, in view of the two incidents that have seen drivers on the wrong side of the M40, we have agreed with Highways England that we will install additional temporary signs at this junction in the short term and discuss whether any additional measures would be appropriate on a permanent basis at this and other approaches to the M40."
A Highways England spokesperson said:
"Safety is Highways England's top priority, and we keep safety on the M40 continually under review. After the tragic accident in October 2018, we commissioned a review looking at a number of junctions on the M40 to maximise their safety in relation to wrong-way driving. We are now working with Oxfordshire and Buckinghamshire councils to review this report and take forward relevant findings.
"There is no evidence that the M40 is at particular risk from wrong way driving compared to other motorways, but commissioning this review was the responsible thing to do and will help us to minimise the risk of this kind of incident happening in the future."