Thames Valley Gun Surrender Campaign
13 November 2017, 10:00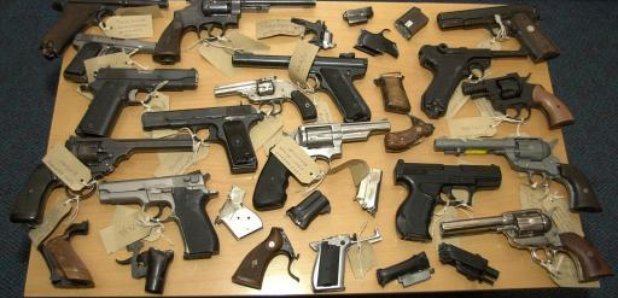 For the next two weeks people will be able to hand in weapons and ammunition anonymously.
The aim of the campaign is to reduce the number of illegally held firearms and each one handed into police is one that will not fall into the hands of criminals.
The surrender is giving people the chance to hand in any firearms or ammunition which have come into their possession for whatever reason.
Whether it is an old family heirloom that has been stored away for years, a former military weapon or an unwanted firearm which was previously legally owned - all can be handed in to your local police station.
Thames Valley Police will also accept replica firearms, air weapons, BB guns, imitation firearms, antique guns, component parts and other ballistic items.
During the fortnight firearms licence holders are also being encouraged to consider the surrender of weapons they no longer have any use for.
The campaign, which runs from November 13 until November 26, is part of national initiative run by the National Ballistics Intelligence Service (NABIS).
Chief Inspector Emma Baillie, Head of Armed Response for the Joint Operations Unit for Hampshire and Thames Valley, said: "This is your chance to safely dispose of any guns or ammunition you no longer want but don't know what to do with.
"Surrender them now and we can dispose of them safely, making sure that they do not fall into the hands of criminals.
"We know that the consequences of firearms or replica firearms falling into the wrong hands can be fatal and can cause real fear within our communities.
"They also have the potential of being used against our own officers who could find themselves confronted with someone wielding a weapon in public."
She added: "While crimes involving firearms in the Thames Valley region are rare, we know that every firearm poses a potential threat if they are not licensed and stored safely.
"That is why we are offering this opportunity to safely hand in your unwanted firearms.
"The fight against gun crime is stronger than ever. We take all reports of incidents involving firearms extremely seriously and robust action will be taken against anyone who commits a firearms related offence."
During the two-week campaign, those surrendering firearms will not face prosecution for the illegal possession upon surrender and can remain anonymous.
However, this is not an amnesty and if further examination of a surrendered firearm reveals a link to a crime, this will be investigated.
Historic ordnance should not be moved or handed in to any stations, if you think you have any items like this, please call us on 101 for advice.
All police stations which have a front desk open to the public that are taking part in the surrender are listed below.
Abingdon 0800 - 2200 Every day
Amersham 1000 - 1800 Mon-Fri
Aylesbury 0800 - 2200 Every day
Banbury 0800 - 2200 Every day
Bicester 1000 -1800 Mon-Fri
Bracknell 1000 - 1800 Mon-Fri
High Wycombe 0800 - 2200 Every day
HQ South, Kidlington 0700 -1800 Mon-Fri
Loddon Valley 0800 - 2200 Every day
Maidenhead 0800 - 2200 Every day
Milton Keynes 0800 - 2200 Every day
Newbury 0800 - 2200 Every day
Oxford 0800 - 2200 Every day
Reading 0800 - 2200 Every day
Slough 0800 - 2200 Every day
Witney 1000 -1800 Mon-Fri