Theresa May Opens Farnborough Airshow
16 July 2018, 15:07 | Updated: 16 July 2018, 15:16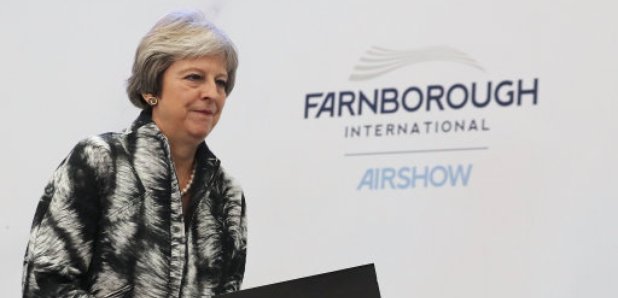 Theresa May has warned that failing to reach a frictionless trade agreement with the EU after Brexit "will not deliver for Britain as a global trading nation".

As the Prime Minister opened Farnborough International Airshow in Hampshire, she stressed the importance of a "business friendly customs model".
Her controversial Brexit blueprint will safeguard millions of aerospace jobs, she told the audience of industry leaders.
She insisted that the UK is proposing a "solution" which "respects the referendum result" and does what is "best for our global trading ambitions".
By protecting the supply chains that companies such as Bombardier, Rolls-Royce and Airbus rely on, she said the plan will cement the UK's position as a leading aerospace nation.
Mrs May announced £343 million in additional research and development funding, including investment in new "cleaner and greener" electric aircraft technology.
She said: "We can all feel incredibly proud of our position as a leading aerospace nation.
"By working closely together, Government and industry have ensured we remain at the forefront of civil aviation and that our air power is second to none," she will say.
"Today I want us to build on that, and ensure not only that we retain our prominence, but that in an increasingly competitive industry we make the most of the opportunities that lie ahead.
"On Thursday, the Government published its white paper detailing our plans for an economic and security partnership with the EU.
"Our proposal sets out the right deal for the UK - honouring the democratic decision of the British people, protecting the integrity of our precious union, supporting growth, maintaining security and safeguarding British jobs."
Her comments were welcomed by Paul Everitt, chief executive of the industry body ADS.
"This is a strong statement of intent that will help build confidence and encourage investment as we look to make sure the UK benefits from sustained global growth in this high value manufacturing industry," he said.
"The international political, military and business leaders visiting Farnborough will be reassured by last week's Brexit white paper and are keen to hear more about the UK's post-Brexit ambitions."
Mrs May's speech followed a tour of the Farnborough site where she saw examples of Airbus plane models, met key industry figures and watched a flypast including Spitfires and Red Arrows.
The airshow, the second biggest in the world, runs to Sunday.