Tiny Puppies Dumped In Bin Liner In Reading Park
27 November 2018, 15:34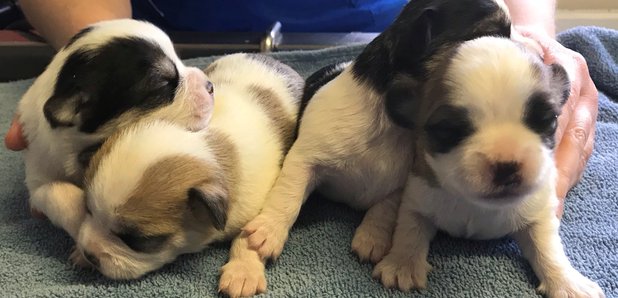 Four tiny puppies - just two weeks old - have been left to die in a bin liner in freezing conditions in a park in Reading.
The puppies - two girls who've been named Ivy and Tinsel, and two boys named Ruby and Chestnut who are thought to be just two weeks old - were found by a passer-by who spotted them in a black bin liner that had been placed under a tree at Whiteknights Lake near the University of Reading on Monday 19 November 2018 at around 10am.
RSPCA animal welfare officer Justine Hermon said:
"The puppies are very lucky to have been found - at this age there is no way they would have survived on their own. They are very young and do not yet have their eyes open.
"They were rushed to a vet where they received immediate treatment and are now with a foster carer,who is looking after them around the clock as they are completely reliant on hand-rearing to replicate the care their mum should be giving them.
"It's heartbreaking to think someone could just put them in a bag and leave them to die. There is never an excuse for treating animals with such cruelty.
"We urge anyone who saw anything suspicious at all to call us on 0300 123 8018."