Lucy & Simon Bike Some Noise for Thames Valley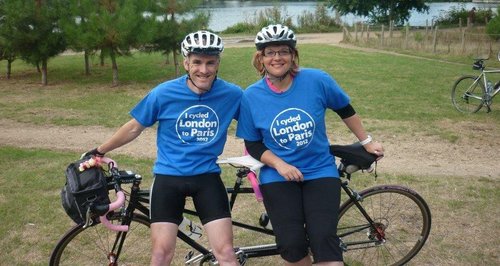 The aim of 'Bike Some Noise' is to cycle across the UK from Lands End to John O'Groats (874 miles) between 9am – 6pm on Thursday 9th of October.
7 stationary bikes will be set up in central London. These bikes will be hooked up to milometers and the total mileage pedaled on all bikes throughout the day will be added together to give us our combined total distance.

As well as being hooked up to milometers our 7 bikes will also be connected to an electrical generator. The electricity generated by the pedalling of the bikes will be used to power record turntables… and in turn 'make noise!' Each hour a record powered by the bikes will be played live on air on Heart!

We'll have 22 'Bike Some Noise Local Champions' from all over the UK. Representing Heart Thames Valley is Lucy and Simon from Naomi House and Jacksplace in Winchester.

Simon is a volunteer that gives up hours of his time , organises fundraising events with some of these being cycle challenges. Working as a full time fire-fighter, he still finds time to help whenever he can.
Lucy is the volunteer Services Manager and as well as looking after the volunteering side, takes part in the events and cycled from London to Paris with Simon on a tandem. The only downside to being on a tandem is not being able to get away from Simons singing!!! Knowing it was raising money for the hospice made it bearable!

We look after children, and young adults with life limited and life threatening conditions. We support families on the whole journey, from respite to end of life care. Ensuring that they have the best time possible with us, creating opportunities for the families and memories for the families.
Next year we will be taking on Lands End to John O'Groats for real... on the tandem again, so this will be good practice.