Global's Make Some Noise - The Charities You're Supporting
8 September 2017, 06:00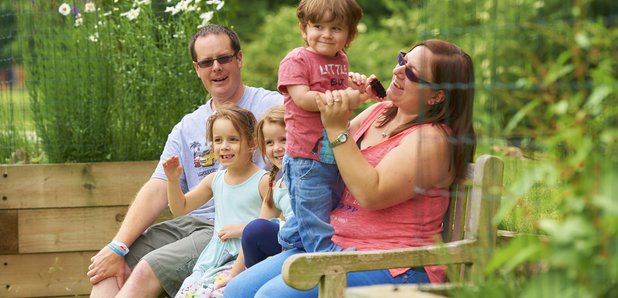 Global's Make Some Noise Day is coming on Friday October 6th, and we need your help to support small charities, helping children and young people who suffer from illness, disability or lack of opportunity.
Here in the Thames Valley, your money will support charities like:
PARENTING SPECIAL CHILDREN
Parenting Special Children provides specialist support for families in Berkshire, Oxfordshire and North Hampshire who have children and young people with special needs.
The charity aims to improve the health and wellbeing of families of children and young people with special needs, and increase the skills and confidence of parents and carers.
Parenting Special Children offers six services which are mostly free of charge. These include one on one support, parenting workshops, specialist courses and sleep training – which has been identified as a key problem for children with special needs by their families.
Sleep is a key part of wellbeing, but most children and young people with special needs find sleeping difficult. Over 93% of parents are up in the night with their children and nearly 50% have health issues due to lack of sleep.
One mum was referred to the Sleep Service after her son's school noticed he had difficulties with anxiety, low self-esteem and challenging behaviour. He had sleep difficulties and often took 3 hours to settle at night. She said:
"The course was very useful. It has worked so well with my child. He just soaked up the routine and is now sleeping well. The theory behind sleep, routine and body clock – I've shared that with friends. My son has also taught daddy about the sleep routine which worked really well. The school has commented that this half term he has been a lot better."
SEBASTIAN'S ACTION TRUST
Sebastian Gates was only 9 when he died from cancer, but his legacy will last much longer, as his parents have worked incredibly hard to fulfil his final wish – a holiday home for seriously ill children and their families.
The Bluebells was set up by Sebastian's Action Trust and provides week long breaks, day visits and crisis breaks for the families of seriously ill children. It's a place where families can spend precious time together and find courage to face the journey ahead.
There are currently nearly 50,000 children and young people in England with life-limiting conditions. Last year, 106 families stayed at The Bluebells.
Young Dylan Richards was diagnosed with encephalitis, brain injury, epilepsy, severe learning difficulties, global development delay, swallow dysfunction and a sensory processing disorder. After spending a weekend at The Bluebells, his mum Alice said:
"Being able to talk to someone outside of the family unit is always very helpful. I could get a few things off my chest. It was great to regroup as a family with Dylan's Aunt and Uncle. We loved our weekend at Bluebells and didn't want to leave!"
Global's Make Some Noise is proud to support further bespoke support to families accessing The Bluebells, including massage sessions, one on one emotional support and bereavement counselling.