Matt's New Daddy Diary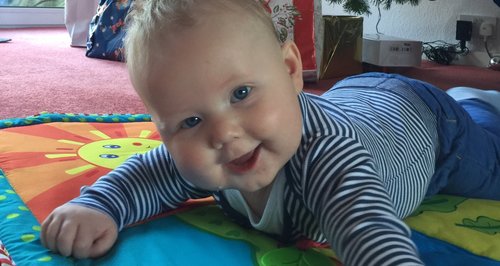 On the 9th of July 2015 Matt became a dad for the first time! Join him on his sleepless journey through fatherhood with baby Charlie.
1st March 2016
- 7 months in.
He doesn't like food shopping.

25th February 2016
- 7 months in.
He doesn't like Prunes.

14th February 2016
- 7 months in.

20th January 2016
- 6 months in.
He now so looks like a little person rather than a baby when he is sitting up. He's doing a great job, but does tend to fall over in slow motion and bump his head!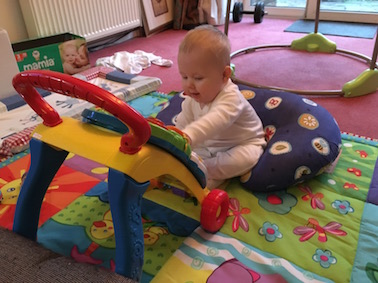 9th January 2016
- 6 months in.

21st December 2016
- 23 weeks and 4 days in.
We have been weening Charlie now for the last 2 months and he is LOVING his food. We are now giving him 'finger food' as well so he can learn to chew on some more substantial food. But we have been worried about this as so many babies choke, apparently, as they haven't learnt yet how to swallow properly, so I have been watching videos on Youtube just in case he chokes.
Turns out he is fine at this and managed to down 3 rice cakes today!




19th December 2015
- 23 weeks and 2 days in.
It's Christmas time and I think I'm more happy about his Christmas outfit than he is!





29th November 2015
- 20 weeks and 3 days in.
Charlie is not a very good sleeper, he is apparently a 'High Need' baby. So he doesn't sleep well, always looks to be stimulated when awake and is not very good at just sitting there relaxing like some babies. He also finds it tricky to get to sleep in the pram, so I have taken to going for a long walk every day with him strapped to me in the sling! He actually loves it and really likes being carried. The only downside now is that he is starting to fight sleep when he knows its coming and starts making loud groaning noises. Which is funny as I carry him, but when I am walking down a busy street I do get some odd looks!

15th November 2015
- 18 weeks and 3 days in.

4th November 2015
- 16 weeks and 6 days in.

20th October 2015
- 14 weeks and 5 days in.

Charlie met my Grandpa for the first time this week! (His GREAT Grandpa!) Was amazing to have 4 generations on the same sofa!
He also met the family dog too!
Then after meeting all of that lot, he relaxed by reading the Sunday papers!
15th October 2015
- 14 weeks.
I'm finding that fatherhood is altering my life in funny ways. It was my birthday yesterday and luckily I had the day off. So with a nice long day stretched out ahead of me how did I celebrate? A day down the pub? A night out on the town? No. I went to John Lewis to buy a cot and then spent half the afternoon doing laps of Centre MK with the pram to help my son stay asleep! In the evening, my wife and I had our first 'date night' since Charlie was born.
My mother-in-law came over to babysit so we could go out for a meal. Even though it was our first night out alone, all we wanted to do was talk about Charlie. It made a nice change though not having to eat cold food with one hand whilst bouncing a grizzling baby on my lap!

8th October 2015
- 13 weeks.
Lack of sleep is doing strange things to me. The other day, I found myself staring at my wife's breast pump and wondering if it's possible to get milk from a man's nipple. Well, you can guess what I did next. Yep, my wife walked in just as I had started pumping my moobs and promptly walked straight back out again. I don't think either of us will ever speak again about that moment! And in answer to my question, no I couldn't get any milk but wow did it hurt!!

1st October 2015
- 12 weeks.
Read an article in the paper the other day called 'Things you learn when you have a huge baby' and found myself agreeing with all of it! Charlie was born fairly big at 9 pounds but was in the 99th centile for height and has just been getting bigger and bigger. At 12 weeks old, he has outgrown his 3-6 month clothes and is now looking snug in 6-9 month stuff. Some of the baby equipment we bought, like his swing chair, is supposed to last him for a year but he's already pushing the weight boundary. There are really good things about having a big baby, such as how healthy he is and how huge his cheeks are! The downside is everyone thinks he's much older than he is and thinks he should be crawling and sitting up by now. I keep having to explain to people that he's not a slow developer, he's just really young!


28th September 2015
- 11 weeks and 4 days in.
One of the amazing things about being a parent in the internet age is the ability to get advice instantly from people all over the world. Forums like Mumsnet can be a brilliant source of information/reassurance whenever you need help or just somewhere to go when you need a good old rant! However, I have one major problem with them – forum speak. It's like a foreign language! All this DS and CS and SCS (or is that sofas?).
Anyway, I've pretty much given up googling anything as I'm losing patience with all these acronyms. My wife on the other hand loves it and has become fluent in forum language. Here's an actual post she wrote the other day "My DS who is ebf hasn't had a bm for 12 days. Should I be worried? My DH thinks its ok but think I'm going to call our HV just in case". Understand a word of that? Nope me neither!

24th September 2015
- 11 weeks.
24th September 2015
- 11 weeks.
Charlie has now mastered the art of rolling over! And just like any adult who finds they have a new skill, they like to do it over… and over… and over again and show off. Here is his second ever roll. 3, 2, 1…
21st September 2015
- 10 weeks and 4 days in.
It's amazing when you become a parent for the first time how such small things become so big. And then as I write this I feel a bit stupid even mentioning it, but if you are a parent... you probably get where I am coming from.

I'm excited today because during the past week, Charlie has leant to pick up his rattle and wave it around for ages!
(See told ya...) Yes where before he would simply drop the rattle on the floor, he now waves it around for 20 minutes or so with a massive smile on his face!

I also took him out for his first visit to B&Q yesterday. We roamed around and I took him down all the manly aisles like plumbing and the grouting section, ready for later in life! In the end he didn't seem to enjoy it that much as and burst out crying near the Wicker Baskets! We then took him to Mothercare as we feel that if a baby is going to cry and he needs to go somewhere, they are probably used to it in there!


4th September 2015
- 8 weeks and 1 day in.
Not sure if you read about the new vaccine to prevent Meningitis B is now being offered to babies from the age of two months in the first national and publicly-funded programme of its kind in the world. As Charlie is now 2 months, he has become one of the first babies to have it and today was the day we took him to the doctors.
It wasn't a nice experience by any stretch of the imagination, he had to have THREE 2 inch long needles stuck into his leg and he cried so hard his face went as red as a big beef tomato! After, we had to give him some Calpol and then he was good to go home. Not looking forward to the weekend, though, as 90% of babies get a fever from this and spend the whole weekend crying!
Wish me luck...


3rd September 2015
- 8 weeks in.
Bath time is becoming a little routine for us now. We have found that after his bath he is nice and relaxed and in a happy mood. He's doing a lot of smiling every time we plonk him in there now...
...but after he was so relaxed that when it came to me wanting to play with him on his little mat, he was more interested as to why I was taking a selfie of us while eating his hand!


26th August 2015
- 6 weeks and 6 days in.
We had another bath time yesterday and he now loves having his bath as you can see!

12th August 2015
- 4 weeks and 6 days in.
Well as I am back to work now I do miss my little Charlie, but luckily I have still been able to stay in touch... via Facetime!

My wife called me on it and as I answered I was greeted with this face...

I have to admit the convo wasn't the best and he didn't look that happy to be on Facetime but he still looked very cute!


6th August 2015
- 4 weeks in.
Looks like this blog is slowly turning into the 'Colic Blog' rather than a baby one! He has this at the moment and some kind of silent 'Reflux' so that basically means he is not sleeping and making a LOT of noise. So when we have finally got him to sleep every day seems like a celebration at the moment!



Is it me or does my son have the biggest cheeks?!


31st July 2015
- 3 weeks and 1 day in.
I haven't eaten mustard since the birth of little boy, Charlie. If you're a parent you'll know why at the early stages. It's a shame as I really like mustard, but thankfully I love my son more... which is good. Unfortunately he's got Colic now he's 3 weeks old so that means he has a few hours a day where he can't stop crying! We have read books, watched DVD's and all sorts and learnt a few neat tricks. As babies love the sound of 'white noise', I have been trying all sorts to see if it will settle him down. Amazingly he loves the sound of the food mixer, so today (as I had him in the sling) I decided I may as well make some homemade mayonnaise and do something worthwhile as I had the damn thing on full blast!



Been reading that it's a good idea to introduce newborns to some 'tummy time' to help with their development. This is where you put them on their front and stimulate them. They try to move about and lift their heads up. It took him a little while to get going as he just layed there for the first 10 mins doing nothing!