This 4-Year-Old Girl Accidentally Cheers For The Wrong Team And Takes It VERY Personally!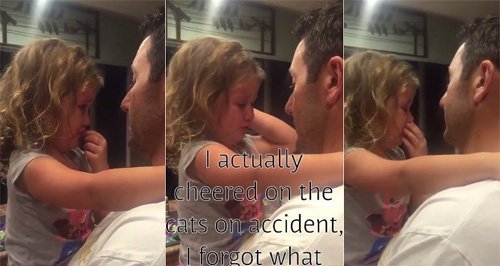 The young tot is the ultimate die hard fan when it comes to her local sports team, so we can understand why she's upset.
A little girl is taking the internet by storm after a video of her crying after she cheered for the wrong team went viral.
Four-year-old Kendall is a HUGE fan of the Louisville Cardinals, so you can imagine her upset when she realised she was cheering for not only the WRONG team but their rivals, Kentucky.
"I actually cheered on the Cats on accident!" a distraught Kendall told her dad.
The hilarious moment captured in a short clip shared to Twitter has been watched by thousands, much to the bemusement of her dad Kohler.
What's even more hilarious is that she wasn't actually watching a football game when it happened.
My Daughter #LittleCardinalFan #L1C4 #GoCards @CardChronicle @RealCardGame @howielindsey @Maybin939 @JohnRamseyUofL pic.twitter.com/9Vgj9V3Jus

— Scotty Kohler (@wskohler) October 23, 2016
Kendall explained that she had forgotten the correct team name while playing with her sister.
"She accidentally said 'Go Kentucky' during whatever game it was that they were playing in her room," Kohler said.
He told his wife to record the moment because he "wanted to have this video for her when she got older."
He explained: "I was the only one who understood what she said [at first] and I understood how trivial it was and that it definitely was nothing to be that upset about. That was the comical aspect of it."
Aww bless her!