EXCLUSIVE! Bradley Cooper Reveals The WORST Animal He's Eaten... And You'll Gag!
The 'Burnt' star has eaten in his fair share of michelin starred restaurants, and got cooking lessons from some of the world's best chefs... but you'll never guess which animal tops his list as the weirdest thing he's eaten!
There's no doubt that Bradley Cooper has his top pick of restaurants when he goes out to eat, so we were a little bit more than shocked when the handsome actor revealed to us that he has eaten GUINEA PIG! YUCK!
While most of us would credit the rodent as being our first household pet, Bradley on the other hand says he ate the animal during a trip to Peru where it was offered up as part of a hearty meal.
Recalling his experience shooting a documentary in the rural villages of Peru, Bradley explained exclusively to Heart showbiz reporter Faye Lyons-White: "I used to host a trek show for the Discovery Channel and we were in Peru living in a village where they ate Guinea Pig, that's how they survived."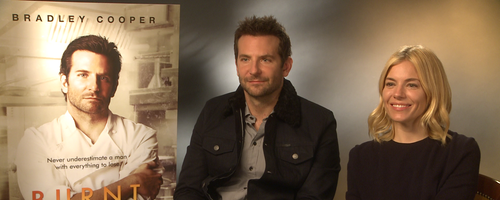 Meanwhile 'Burnt' co-star Sienna Miller told us about her worst ever dinner date, which resulted in her DUMPING a boy in the middle of Pizza Express!
"I dumped a boy because he ordered a Sloppe Guiseppe pizza at Pizza Express and I thought that the words were so disgusting that I didn't fancy him anymore!" she laughed.
Continuing to make excuses for her inexcusable (yet hilarious) actions, she added: "I felt really bad, but you know when you're young and you're like 'URGH, I'm never kissing you again.'"
'Burnt' is out in cinemas now!