Bradley Cooper Gets Handsy With Ellen Degeneres In Hilarious Cooking Challenge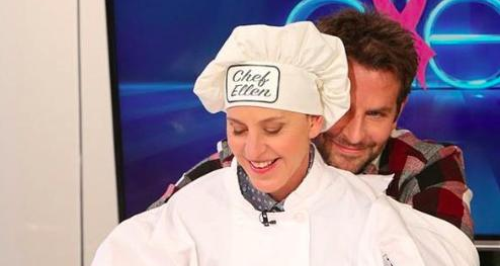 Who knew Bradley Cooper had such SEXY hands?! Watch as the 'Burnt' star puts them to good use in a cooking challenge with Ellen.
We all knew Bradley Cooper was more than just a bit good looking, however we couldn't help but notice his hands are just as sexy!
The 40-year-old actor got up close and personal with Ellen Degeneres when he appeared on her daytime talk show. Bradley was tasked with being Ellen's hands while she cooked a slap up meal.
It's safe to we weren't the only ones to notice either, as fans across the Twittersphere were also left a little bit flustered by his technique.
#BradleyCooper can be my hands while cooking any day. He is gorgeous #Ellen

— Lindsey Hutchison (@Lindshutch1) October 20, 2015
#BradleyCooper is terrific with his hands@TheEllenShow https://t.co/id3jvf7j1I

— April in NJ (@April_in_NJ) October 20, 2015