Chewbacca Mum Drives James Corden To Work In Hilarious New Sketch.
Chewbacca Mom Takes James Corden to Work
01:31
The 'Late Late Show' host has managed to track down the internet's latest celebrity for a 'Star Wars' themed carpool.
Update 25 May 2016:
The fairytale is never ending for Candace Payne as she got invited to Facebook HQ by Mark Zuckerberg himself, to meet Chewbacca!
The happy internet star even got to share a cuppa with her idol and doesn't she look thrilled about it!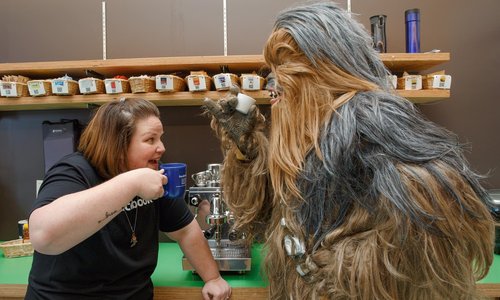 More than 150 million people have watched the Facebook Live video of Candace Payne, laughing hysterically while wearing a Chewbacca mask!
Now she's teamed up with 'Late Late Show' host James Corden for a brand new skit that sees the giggling mother-of-two driving him to work.
It's like the internet gods have answered our prayers!
As Candice takes the wheel she tells James about how she's coping with online fame, plus BOTH put on the famed masks whilst chuckling hysterically.
Prior to her carpool, Candice had received the shock of her life when she was greeted with a surprise visit from 'Star Wars: The Force Awakens' director JJ Abrams.
In the original video, Candace Payne decides to do a Facebook Live video for her friends as she could barely contain her excitement after purchasing a Chewbacca mask from department store 'Kohl's' as a birthday present to herself.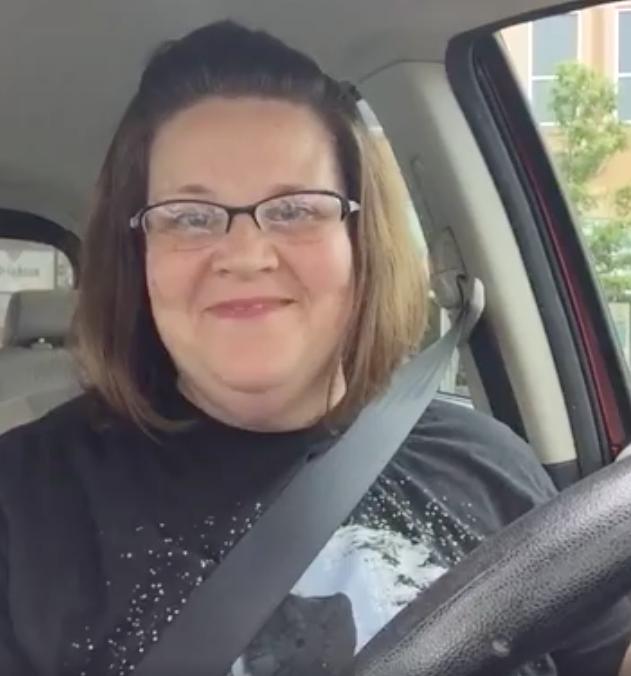 In the video she explains, "I'd like to say that I bought this for my son but at the end of the day it's mine and I'm gonna keep it for my own!"
When she eventually puts on the Chewbacca mask, she begins laughing hysterically and you can't help but join in!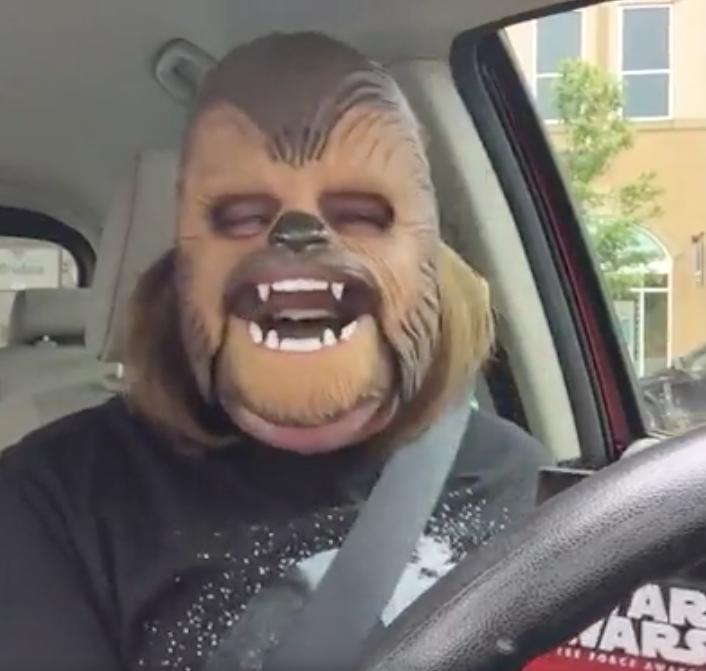 Her collaboration with James Corden comes after the giggling mother-of-two's viral video saw the mask SELL OUT of stores in the United States.
What's more, sellers on eBay are capitalising on the drought by selling masks at vastly inflated prices... and we're not talking about pocket money here! One seller was caught auctioning off a mask for a whopping £120!
If you missed the original video, we dare you to watch it back without laughing...