WATCH! Dad's CCTV Footage Shows What Your Kids REALLY Get Up To After Bedtime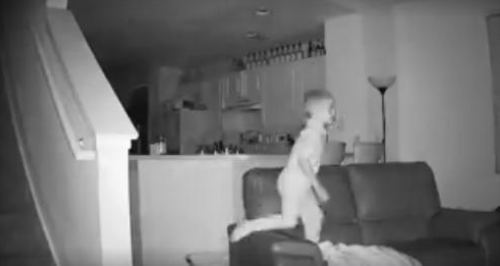 This cheeky boy thinks he's managed to get away with staying up past bedtime, but little does he know he's been caught red handed!
Every parent knows how rewarding it feels when you FINALLY get your kids to bed after a long day.
They've been fed, showered, read their bedtime story and now they'll be off to noddy land right?
Think again.
A new video has gone viral on Facebook, after a father was shocked to find out EXACTLY what his cheeky son got up to after being put to bed, and it's nothing short of hilarious.
The sprightly tot can be seen running around the lounge and jumping on the sofas before making his way into the kitchen and flicking the lights on and off without a care in the world, obviously assuming his parents were asleep upstairs and none the wiser.
Little did he know that his father, Cody Wray from Texas, US, had secretly set up home CCTV so he could keep a watchful eye on his every step (or in this case, jump!)
"Looking through security footage when I found this event in the middle of the night in my living room," Wray wrote on Facebook after spying his son's naughty activities.
"He's so dead."
Since being uploaded to the social networking site, the video has racked up over 54,000 views and we're sure there's a lot more where that came from!